It is sometimes the case that the enemies of the Holy Faith who were known as "dissenters" during what was thought to be the "dark years" of supposed "conservatism" under Karol Wojtyla/John Paul II and Joseph Ratzinger/Benedict XVI that they believe froze the conciliar revolution in place, if not retarded its progress, are able to provide us with superb summaries of the "leading indicators" of the revolutionary "progress."
Such a service was provided at the end of March last year, 2013, when the doctrinal, liturgical and moral revolutionary Benedictines of Saint John's Abbey in Collegeville, Minnesota, the home of the "other" Saint John's University (to be distinguished from "the" Saint John's University in Jamaica, Queens, my own baccalaureate alma matter), issued a superb summary of Jorge Mario Bergoglio's first eleven days as "Pope Francis:"
What Pope Francis Has Done

· After his election, he came down from platform to greet the cardinal electors, rather than have them come up to his level to offer obedience · He appeared on the loggia without the red cape. (The BBC report, unconfirmed, is that he said to his aide, "No thank you, Monsignore. You put it on instead. Carnival time is over.")

· In his greeting he referred to himself only as "bishop," not as "pope." ·

He referred to Benedict as "bishop emeritus," not "pope emeritus."

· He appeared without the stole, only putting it on to give the blessing. He then took it off in public (!), as if he couldn't wait to get it off.

· He asked for the people's blessing before he blessed them.

· He doesn't wear red shoes.

· Or white stockings. · Or cuff links.

· He rode the bus back to the residence with the cardinals rather than take the papal limousine.

· When he went to Mary Major to pray, he declined the papal Mercedes and took a Volkswagen Passat.

· On his way back from Mary Major, he stopped at his pre-conclave hotel to get his luggage and pay his own bill. · Though he has taken possession of the apostolic palace, he continued to receive guests at St. Martha's House rather than the palace.

· He drank Argentinian tea in public when receiving the Argentinian president – protocol is that popes are seen publicly consuming no food or drink except the Eucharist.

· His first Mass with cardinals was celebrated facing the people. (Pope Benedict started this way, but then did a "reform of the reform" and celebrated at the old high altar in the Sistine Chapel facing away from the congregation. Apparently this has been reversed.)

· He doesn't chant the prayers, he recites them – but this could be because of an impaired lung or his singing ability.

· The wall of candles between celebrant and congregation, another of Pope Benedict's "reform of the reform," was moved away with three candles on each side of the altar.

· At his inauguration Mass, photos show that the candles were originally set up across the front of the altar, but by Mass time they had been moved to the side.

· The crucifix on the altar was a small one at his first Mass.

· He wore his own simple miter from Argentina, not the papal miter.

· He preached from the ambo without miter – rather like a simple parish priest. (The concelebrating cardinals gradually realized what was going on and had to remove the miters they had started to put on after the Gospel reading.)

· He brushed aside the prepared Latin homily and preached in Italian without text.

· In general, less lace.

· His hands are folded during the liturgy, not the pious (some say prissy) way with palms together.

· He didn't genuflect at the Supper Narrative of the Eucharistic Prayer – is this really because of bad knees?

· He asked the cardinals not to wear their red cardinals' robes, but black. · He stood on the floor of the Clementine Hall to greet the cardinals rather than sit on the throne on the platform.

· He called them "brother cardinals" rather than "Lord cardinals."

· He bent to kiss the ring of a cardinal who kissed his ring.

· At his meeting with over 5,000 journalists, after Archbishop Celli introduced him, he got up to walk over to him (popes don't do that) and thanked him.

· He didn't bless the journalists like popes do, since not all of them are Catholic or believers. Instead he prayed for them in silence, then simply said "God bless you."

· After the meeting with journalists, he waved away the papal limousine and walked to the Vatican residence.

· When he saw the papal apartments he said, "There's room for 300 people here. I don't need all this space." He has yet to move into the apartments, and some wonder whether he will.

· At Mass Sunday at the Vatican parish Sunday morning, he gave the Kiss of Peace to the deacons and Master of Ceremonies, not just the concelebrants. This is breaking the rules – but perhaps also a nice show of support for MC Marini, who must be reeling from all the sudden changes.

· The deacon didn't kneel before Pope Francis for the blessing before the gospel (as they did for John Paul II and Benedict XVI).

· He doesn't wear the dalmatic. Pope Benedict revived the practice, not foreseen in the reformed liturgical books, of wearing this deacon's vestment under his papal vestments.

· He doesn't distribute Communion as the missal foresees of the celebrant, but is seated while others do so.

· He listened to the words of the Patriarch of Constantinople seated on an armchair rather than the throne that is customarily used in the Clementine Hall. When he thanked Bartholomew I, he called him "my brother Andrew."

· He has simplified his coat of arms, keeping the miter rather than tiara (as Benedict also did) but removing the pallium from it. · He is wearing a second-hand pallium.

· He has chosen a simple ring, re-using a ring once made for Paul VI's secretary.

· Pope Benedict recently began wearing a fanon under the pallium for big feasts, but Francis did not wear it as the inauguration Mass.

· He undid Pope Benedict's decision that all the cardinals would come up to pay obedience to the Pope at his inauguration, and decided that six representatives would be enough.

· Rather than being seated while they came up to pay him obedience, he stood and greeted them informally.

· Contrary to protocol, he has given a phone call to the Jesuit superior general, the people holding a prayer vigil outside the Buenos Aires cathedral, and the guy in Argentina who sold him his daily paper (to cancel his delivery).

· When he met the Jesuit general, he apologized for not keeping protocol and insisted on being treated like any other Jesuit with the "tu" informal address, rather than "Your Holiness" or "Holy Father."

· He is not celebrating Holy Thursday Mass of the Lord's Supper in St. Peter's Basilica (he hasn't yet taken possession of his cathedral, John Lateran), but in a juvenile prison.

· He celebrated an unannounced Mass at St. Martha's with hotel workers, Vatican gardeners, and people who clean St. Peter's square. He showed up before Mass and sat in the back row to pray a bit.

· In his official photograph, he signs his name simply "Franciscus" without "PP" ("pontifex pontificum") used by previous popes. (Francis the Jansenist Is Our Hero, Our Dream Come True.)
All of that was noticeable after just eleven days of Jorge Mario Bergoglio's first year of visceral revolutionary rhetoric and activity. So much more has happened since that time, of course.
Although it would take a book length manuscript to document everything that Bergoglio has done in the past year, a chronology of some of his rhetoric and activity during might serve as a useful reminder that everything that the Argentine Apostate does at this point is just a variation on the themes that he has hammered home so repeatedly, so pedantically, especially during his daily sessions of the Ding Dong School of Apostasy at the Casa Santa Marta.
March 14, 2013:
Addressing his brother apostates on the day after they elected him to serve as the successor to Joseph Ratzinger/Benedict XVI, Jorge Mario Bergoglio immediately got to the work of blasphemy by saying the following about the Third Person of the Most Blessed Trinity, God the Holy Ghost:
The cardinals' sense of openness and mutual friendship helped the Holy Spirit do its part during the conclave, he said.

One "curiosity," the pope noted, is that the Holy Spirit is a sort of "apostle of Babel" that creates the differences in the church.

But on the other hand, he said, it's the same Holy Spirit that "unites these differences, not in equality but in harmony," by focusing everyone's different gifts on the adoration of the Father, Son and Holy Spirit. (Don't give in to pessimism, courageously share Gospel.)
This is what I wrote at the time:
Apostle of Babel?
Would you want to rethink that one, Frank?
Apostle of Babel?
"Picky, picky," some might say. "Our beloved, humble pope was trying say that there are a diversity of talents apportioned by God the Holy Ghost to each member of the People of God, that these differences actually build harmony. That's all he was saying. Nothing more."
Ah, I reply, words matter. They matter a lot. Imprecision of language matters a lot, especially when one is speaking of the Three Persons of the Most Blessed Trinity.
The Towel of Babel refers to the pride that was possessed by mankind after the Great Flood as He chose to confound their pride in speaking but a single language by confusing them with a multiplicity of languages so that they could understand each other:
[1] And the earth was of one tongue, and of the same speech. [2] And when they removed from the east, they found a plain in the land of Sennaar, and dwelt in it. [3] And each one said to his neighbour: Come, let us make brick, and bake them with fire. And they had brick instead of stones, and slime instead of mortar. [4] And they said: Come, let us make a city and a tower, the top whereof may reach to heaven: and let us make our name famous before we be scattered abroad into all lands. [5] And the Lord came down to see the city and the tower, which the children of Adam were building.

[6] And he said: Behold, it is one people, and all have one tongue: and they have begun to do this, neither will they leave off from their designs, till they accomplish them in deed. [7] Come ye, therefore, let us go down, and there confound their tongue, that they may not understand one another's speech. [8] And so the Lord scattered them from that place into all lands, and they ceased to build the city. [9] And therefore the name thereof was called Babel, because there the language of the whole earth was confounded: and from thence the Lord scattered them abroad upon the face of all countries. [10] These are the generations of Sem: Sem was a hundred years old when he begot Arphaxad, two years after the flood. (Genesis 11: 1-9.)
The diversity of given to us by God the Holy Ghost is not meant to confuse us in any way but to unite us in the common language of the Catholic Faith as we build up the supporting ligaments of the Mystical Body of Our Blessed Lord and Saviour Jesus Christ with the particular gifts that we have been given:
[1] I BESEECH you therefore, brethren, by the mercy of God, that you present your bodies a living sacrifice, holy, pleasing unto God, your reasonable service. [2] And be not conformed to this world; but be reformed in the newness of your mind, that you may prove what is the good, and the acceptable, and the perfect will of God. [3] For I say, by the grace that is given me, to all that are among you, not to be more wise than it behoveth to be wise, but to be wise unto sobriety, and according as God hath divided to every one the measure of faith. [4] For as in one body we have many members, but all the members have not the same office: [5] So we being many, are one body in Christ, and every one members one of another.

[6] And having different gifts, according to the grace that is given us, either prophecy, to be used according to the rule of faith; [7] Or ministry, in ministering; or he that teacheth, in doctrine; [8] He that exhorteth, in exhorting; he that giveth, with simplicity; he that ruleth, with carefulness; he that sheweth mercy, with cheerfulness. [9] Let love be without dissimulation. Hating that which is evil, cleaving to that which is good. [10] Loving one another with the charity of brotherhood, with honour preventing one another.

[11] In carefulness not slothful. In spirit fervent. Serving the Lord. [12] Rejoicing in hope. Patient in tribulation. Instant in prayer. [13] Communicating to the necessities of the saints. Pursuing hospitality. [14] Bless them that persecute you: bless, and curse not. [15] Rejoice with them that rejoice; weep with them that weep.

[16] Being of one mind one towards another. Not minding high things, but consenting to the humble. Be not wise in your own conceits. [17] To no man rendering evil for evil. Providing good things, not only in the sight of God, but also in the sight of all men. [18] If it be possible, as much as is in you, have peace with all men. [19] Revenge not yourselves, my dearly beloved; but give place unto wrath, for it is written: Revenge is mine, I will repay, saith the Lord. [20] But if thy enemy be hungry, give him to eat; if he thirst, give him to drink. For, doing this, thou shalt heap coals of fire upon his head.

[21] Be not overcome by evil, but overcome evil by good. (Romans 12: 1-21.)
It matters not what Francis the Lay Pope meant to say.
What matters is what he said.
The Tower of Babel has nothing to do with the diversity of distinctive gifts apportioned us by God the Holy Ghost.
Ah, we can expect a lot this during Francis the Lay Pope's time as the "citizen pope" before he retires in peace to the slums outside of Buenos Aires (which are indeed truly, truly wretched and coexist within miles of very posh, expensive areas). The "citizen pope" speaks extemporaneously, which means that there will be a lot of spontaneous material heresy in what he say as well the simple, garden-variety conciliar heresy that flows so freely easily from his lips and with his blasphemous and sacrilegious deeds.
Then again, Francis the Lay Pope (I will use a variety of titles with which to address him) is but a figure of Antichrist, a man who conditioning Catholics attached to the conciliar structures to get used to "informality" and "spontaneity" when discussing the Faith and to treat all religions with the respect he believes that they deserve as each is pleasing to the true God of Divine Revelation, with is why the lords of Judeo-Masonry are tripping all over themselves about him:
Cardinal Jorge Mario Bergoglio's selection as Pope Francis has come as a welcome surprise for the Jewish community and the future of Catholic-Jewish relations.

Rabbi Noam E. Marans, director of interreligious and intergroup relations for the American Jewish Committee, said on Thursday that the future of Catholic-Jewish relations should be in good hands with Pope Francis at the helm.

"The surprise for Jewish people and people paying attention to Catholic-Jewish relations was all prognostication and the concerns do not seem to have come true," he said. "We have been given arguably the most positive result one could want in terms of Catholic-Jewish relations."

Bergoglio, who finished runner-up to Pope Benedict XVI eight years ago, represents the first time a pope has not emanated from Europe. He is also the first Jesuit to be selected pope.

Marans said that, more than ever, the Jewish community's relationship with Latinos in the U.S. and abroad needs to be strengthened during Pope Francis' reign as pope.

"The Latino population has grown dramatically in the U.S. and it behooves us as a Jewish community to work very hard on that relationship," Marans said. "This was a real shot in the arm of empowerment not just to Latinos in the U.S. who embrace Catholicism, but also to Latinos throughout the world and the Jewish community needs to pay attention." (Rabbi Praises Lay Pope Francis Selection As A 'Most Positive Result'. I have been unsuccessful in my efforts to find any remarks that Jorge Mario "Cardinal" Bergoglio might have made during the storm created by Bishop Williamson's remarks that aired on Swedish television on January 21, 2009, at a time when Bishop Williamson was the rector of the Society of Saint Pius X's seminary in Argentina. Maybe Bergoglio said nothing? My efforts to find such remarks, if they were made and still exist in cyberspace, continue.)
"We have been given arguably the most positive result one could want in terms of Catholic-Jewish relations."
The "we" that Rabbi Marans is referring to even though he does not realize it consists of the devil and his minions. They are indeed most pleased at what is to them "arguably the most positive result one could want in terms" of further eroding what little is left of the sensus Catholicus in the minds, hearts and souls of conciliar Catholics and to prepare the way for the coming of Antichrist and the One World Ecumenical Church. They certainly got their "positive result" in the "lay pope" of the moment.
We know now, of course, that Bergoglio would go on to blaspheme God and Our Lady endlessly. Blasphemy comes effortlessly to him as it is part of his revolutionary nature.
March 16, 2013:
More information concerning Jorge Mario Bergoglio's background emerged, including his opposition to Joseph Ratziger/Benedict XVI's decision to created an "ordinariate" for disaffected Anglicans. Bergoglio's election as the head of the counterfeit church of conciliarism was praised by the Parliament of World Religions, which singled out his work with the pro-abortion, pro-perversity Argentine rabbi, Abraham Skorka:
The new Pope has reportedly said the Church universal needs Anglicans and that the Ordinariate is "quite unnecessary".

In a note released after the election of the first ever pontiff from Latin America, the Anglican Bishop of Argentina and former Primate of the Anglican Church of the Southern Cone, the Rt Revd Greg Venables said Cardinal Jorge Bergoglio was "an inspired choice".

"Many are asking me what is really like. He is much more of a Christian, Christ centered and Spirit filled, than a mere churchman. He believes the Bible as it is written.

"I have been with him on many occasions and he always makes me sit next to him and invariably makes me take part and often do what he as Cardinal should have done. He is consistently humble and wise, outstandingly gifted yet a common man. He is no fool and speaks out very quietly yet clearly when necessary."

Bp Venables added that in a conversation with Cardinal Bergoglio, now Pope Francis, the latter made it clear that he values the place of Anglicans in the Church universal.

"He called me to have breakfast with him one morning and told me very clearly that the Ordinariate was quite unnecessary and that the Church needs us as Anglicans.

The former Primate of the Anglican Communion's Iglesia Anglicana del Cono Sur de America added, "I consider this to be an inspired appointment not because he is a close and personal friend, but because of who he is In Christ. Pray for him." (Anglican Communion News Service: "The Church universal needs Anglicans"– Francis the Head Citizen of the One World Ecumenical Church.)
As I wrote at the time:
In other words, Jorge Mario Bergoglio/Francis believes that His Apostateness, Benedict XVI, Antipope Emeritus, was wrong to have created the ordinariate for the Anglicans with the issuance of Anglicanorum Coetibus on November 9, 2009 (see Defaming The English Martyrs and Still Defaming The English Martyrs.)There was no need for Ratzinger/Benedict to have done so, he believes. The Anglicans are "just fine" where they are. They are not.
Ah, you see, no one who is truly of Our Blessed Lord and Saviour Jesus Christ speaks this way. This is not the language of a believing member of the Catholic Church. This is the language of apostasy.
The Catholic Church is the one and only true Church created by Our Blessed Lord and Saviour Jesus Christ, founded as she is upon the Rock of Peter, the Pope. All false churches are from the devil, including the heretical and schismatic Anglican sect. It is abundantly clear Jorge Mario Bergoglio/Francis takes false ecumenism beyond the the limits expanded previously by his predecessors as false claimants to the Throne of Saint Peter. He scoffs at doctrines that  he believes do not correspond to his false, naturalistic and sentimentally-driven concept of "charity" and "universal tolerance" and "respect for all religions.
Bergoglio/Francis does not even believe that it is necessary to resort the intellectual gymnastics required of Joseph Ratzinger/Benedict XVI's philosophically absurd and dogmatically condemned "hermeneutic of continuity" to reconcile the immutable teaching of the Catholic Church with that of the counterfeit church of conciliarism. Jorge Mario Bergoglio/Francis just ignores any doctrine or ceremony he does not like as he is opposed to what he would dismiss as a "dogmatism" that divides men and a "sacrality" that places what he thinks are barriers between Our Lord and His people, who can belong to whatever religion they want as long as they serve the poor and are meek and humble in their bearing.
This what the Parliament of World Religions said upon Bergoglio's election:
Pope Francis has had deep experience in interreligious relations in Argentina. He co-authored a book with Rabbi Abraham Skorka, Sobre el Cielo y la Tierra (On Heaven and Earth, Buenos Aires: Sudamericana, 2011; e-book: Random House Mondadori, 2011). Regarding interreligious discussions, then-Cardinal Bergoglio wrote: "Dialogue is born from an attitude of respect for the other person, from a conviction that the other person has something good to say. It assumes that there is room in the heart for the person's point of view, opinion, and proposal. To dialogue entails a cordial reception, not a prior condemnation. In order to dialogue it is necessary to know how to lower the defenses, open the doors of the house, and offer human warmth" (my translation).

The book is itself a model of interreligious dialogue. In the Foreword, Rabbi Skorka notes the risk that they were taking in sharing their personal exchanges with the public: "To transform the dialogue into a conversation with many, to bare our souls, accepting all the risks that this implies, but profoundly convinced that this is the only path of knowing the human, which is capable of bringing us closer to God." At a later point in the dialogue, the rabbi comments: "If we arrive at an attitude of genuine humility, we will be able to change the reality of the world. When the prophet Micah wanted to give a definition of what it means to be religious, he said: 'Do justice, love piety, and walk humbly with your God.'"

In response, Cardinal Bergoglio replied: "I am totally in agreement on the question of humility. It pleases me also to use the word 'meekness,' which does not mean weakness. A religious leader can be very strong, very firm without exercising aggression. Jesus says that the one who leads must be one who serves. For me, this idea is valid for the religious person of whatever religious confession. Service confers the real power of religious leadership" (my translation).

Pope Francis promises to be a forceful spokesperson for the poor, an eager and attentive partner in interreligious conversations, and a leader who reaches out to the entire world. (Antipope Francis and Interreligious Relations at Parliament of the World's Religions.)
"Service confers the real power of religious leadership"?
The madness at this time last year extended to the Orthodox as well. The schismatic and heretical Greek Orthodox Patriarch of Constantinople became the first ever of his church to attend a "papal" installation ceremony since Eastern rites now called Orthodoxy broke away from the Catholic Church in the year 1054 A.D.:
Istanbul (AsiaNews) – The Ecumenical Patriarch of Constantinople Bartholomew I will attend Pope Francis's inaugural Mass. The Ecumenical Patriarchate Press Office informed AsiaNews about the decision, noting that this is the first time such an event occurs since the Catholic-Orthodox split in 1054, an important sign for Christian unity.

The ecumenical patriarch will be accompanied by Ioannis Zizioulas, metropolitan of Pergamon and co-president of the Joint International Commission for Theological Dialogue between the Roman Catholic and the Orthodox Church, as well as Tarassios, Orthodox Metropolitan of Argentina, and Gennadios, Orthodox Metropolitan of Italy.

Relations between Catholics and Orthodox have been improving since the Second Vatican Council through mutual visits, acts of friendship and theological dialogue.

Under Benedict XVI, the dialogue picked up in earnest after a lull. In trying to promote it, the pope suggested ways to express the primacy of Peter's successor that could be acceptable to the Orthodox, finding his inspiration from the undivided Church of the first millennium.

Catholic ecumenism has met however with great resistance from the Russian Orthodox Church and the Moscow Patriarchate, seat of the 'Third Rome'.

The head of the Russian Orthodox Church's Department for External Relations, Metropolitan Hilarion of Volokolamsk, said on Thursday that a meeting between the pope and Patriarch Kirill of Moscow was "possible but the place and timing will depend on how quickly we will overcome the consequences of the conflicts from the turn of 1980s and 1990s".

The issue of the Ukrainian Catholic Church is at the core of the "conflicts" to which Hilarion was referring. Although it was unbanned following the collapse of the Soviet Union, it was left without its original churches, which had been seized by the Communists under Soviet rule and later transferred to the Orthodox Church.

Still, "on several occasions, Pope Francis has shown spiritual sympathy towards the Orthodox Church and a desire for closer contacts," Hilarion said.

It is his hope that under the new pontificate "relations of alliance will develop and that our ties will be strengthened." (For the first time since the Great Schism, ecumenical patriarch to attend putative pope's inaugural liturgy and celebration of world's religions.)
As is well-known a year later, Jorge Mario Bergoglio has proven himself to be a friend also of Talmudic Judaism, never missing an opportunity to demonstrate that he considers the Old Covenant that God made with Moses to be completely valid, a heresy that he was kind enough to put into writing in Evangelii Gaudium, November 26, 2013:
In the first day of his papacy, Pope Francis reached out to Rome's Jewish community and said he hoped to build on the good relations between the two faiths.

The city's Chief Rabbi Riccardo Di Segni has accepted the new pope's invitation to attend his inaugural mass.

Di Segni cautiously optimistic that the Roman Catholic leadership could help in the Middle East:

"The Vatican is present in that region. It's involved in the conflict and not as a neutral entity. But if it's able to hold reasonable talks with a peaceful will, then it's welcome," Di Segni told euronews.

Just a stone's throw from the Vatican, the Portico d'Ottavia district is at the heart of the Jewish community.

A local woman said: "Everyone has his own faith, religion and belief. But anyone can talk to the others. Of course one should have enough humility to do that."

The Jewish community in the Italian capital is considered to play a guiding role in Catholic-Jewish relations worldwide.

Pope Benedict XVI and John Paul II both made visits to Rome's Great Synagogue. (Warm start to relations between new antipope and His Talmudic Equal.)

VATICAN CITY — Like his predecessor, Pope Francis reached out to Rome's Jewish community at the very start of his pontificate, pledging to continue to strengthen the increasingly close ties between Catholics and Jews.

Just hours after he was elected the first Latin American pope in history, Francis sent a letter to Rome's chief Rabbi Riccardo di Segni, saying he hoped to "contribute to the progress that relations between Jews and Catholics" have seen since the 1962-1965 Second Vatican Council.

In an interview Friday with The Associated Press, di Segni said the dialogue between Catholicism and Judaism was "complicated" but added that the new pope's background "gives me trust and hope" that relations will continue to improve.

Other Jewish leaders welcomed the election of a pontiff seen as an ally when he was archbishop of Buenos Aires. Israeli President Shimon Peres said Francis would be a "welcome guest in the Holy Land" while Ronald Lauder, the president of the World Jewish Congress, said the new pope "always had an open ear for our concerns."

"By choosing such an experienced man, someone who is known for his open-mindedness, the cardinals have sent an important signal to the world," Lauder said. "I am sure that Pope Francis I will continue to be a man of dialogue, a man who is able to build bridges with other faiths." (Antipope Francis Reaches Out to Fellow Enemies of Christ the King.)
Bergoglio also made headlines on March 16, 2013, when he told his fellow Argentines that they should not travel to Rome for his "installation" as the "Petrine Minister" on Tuesday, March 19, 2013, the Feast of Saint Joseph, and that they should donate whatever money they wanted to spend on airline flights and hotel reservations to the poor. "Humble Jorge," the "street priest of the poor," was just warming up his act for ostentatious display for the whole world to see and admire.
March 17, 2013:
The newly elected "Pope" Francis found time to write to another layman, Justin Welby of the heretical and schismatic Anglican sect, to congratulate him on his own "installation" as the bogus "Archbishop of Canterbury" on Thursday, March 21, 2013, the Feast of Saint Benedict:
To the Most Reverend and Right Honourable
Justin Welby
Archbishop of Canterbury

"May grace and peace be multiplied to you" (1 Pet 1:2b)

I thank you for the kind words contained in your message to me at my election, and I wish in turn to offer my greetings and best wishes on the occasion of your Enthronement at Canterbury Cathedral.

The pastoral ministry is a call to walk in fidelity to the Gospel of our Lord Jesus Christ. Please be assured of my prayers as you take up your new responsibilities, and I ask you to pray for me as I respond to the new call that the Lord has addressed to me.

I look forward to meeting you in the near future, and to continuing the warm fraternal relations that our predecessors enjoyed. (Message of The Head Apostate in Rome to the Head Apostate in England.)
"Enthronement at Canterbury Cathedral"?
What "enthronement"?
Justin Welby and his schismatic, heretical Anglican sect have no right to that glorious Catholic cathedral. No right whatsoever. Canterbury Cathedral is stolen property. It belongs to the Catholic Church.
Then again, of course, the church buildings, including the Basilica of Saint Peter, and the schools, hospitals, monasteries and convents and other institutions and property that belong to the Catholic Church have been seized by spiritual robber barons, each of whom does not possess the Catholic Faith in her Holy Integrity while saying and doing things that are proscribed by the Catholic Church. Most of these spiritual robber barons are neither priests or bishops. They are laymen just as surely as Justin Welby,
"Pastoral fidelity"?
"A call to work in fidelity to the Gospel of our Lord Jesus Christ"?
Jorge Mario Bergoglio/Francis, simply aping the party line taken by Giovanni Montini/Paul VI, Karol Wojtyla/John Paul II and Joseph Ratzinger/Benedict XVI, believes that heretics and schismatics some kind of "ministry" to discharge in the"Church of Christ" while supporting many grave evils (contraception, the surgical and chemical assassination of innocent preborn children under cover of the civil law as the exercise of a "duly informed conscience," perversity as an expression love "love" and a "commitment" in stable relationships, installation of women as Anglican presbyters and bishops, installation of men and women engaged in unrepentant acts of perversity) under cover of the civil and, of course, using liturgical books condemned as heretical by Pope Saint Pius V in Regnans in Excelsis, March 5, 1870, and declared to be utterly null and void of any sacramental validity by Pope Leo XIII, Apostolicae Curae, September 18, 1896, using a translation of Sacred Writ that is heretical and promoting one heresy after another.
Some ministry, huh?
March 20, 2013:
It was the day after his "humble" installation, March 20, 2013, that Jorge Mario Bergoglio began his full-scale campaign in behalf of false ecumenism, although the presence of a panoply of representatives of false religions at his "installation" was a sign in and of itself of his manifest religious indifferentism, all of his protests to the contrary notwithstanding.
This is what Bergoglio said to these representatives on March 20, 2013:
Dear Brothers and Sisters,

First of all I thank my Brother Andrew [Bartholomew I] very much for what he said. Thank you very much! Thank you!

It is a cause for particular joy to meet today with you, delegates of the Orthodox churches, the Oriental Orthodox churches and ecclesial communities of the West. Thank you for having wanted to take part in the celebration that has marked the beginning of my Ministry as Bishop of Rome and successor of Peter.

Yesterday morning, during Holy Mass, through your persons I recognized as spiritually present the communities that you represent. In this manifestation of faith, I seemed to experience in an even more urgent way the prayer for unity among believers in Christ and together to see somehow foreshadowed that full realization, which depends on the plan of God and on our loyal collaboration.

I begin my Apostolic Ministry in this year which my venerable predecessor, Pope Benedict XVI, with truly inspired insight, proclaimed the Year of Faith for the Catholic Church. With this initiative, which I want to continue and hope is a stimulus for the faith journey of all, he wished to mark the 50th anniversary of the beginning of the Second Vatican Council, proposing a sort of pilgrimage towards that which is most essential for every Christian: the personal and transforming relationship with Jesus Christ, Son of God, who died and rose for our salvation. The heart of the Council's message resides precisely in the desire to announce this perennially valid treasure of faith to the men of our time.

Together with you I cannot forget how much that Council has meant for the road of ecumenism. I would like to recall the words of Blessed John XXIII, the 50th anniversary of whose death we will soon commemorate, which he pronounced in his memorable inauguration speech: "the Catholic Church considers it her duty to actively seek to fulfill the great mystery of that unity which Jesus Christ with most ardent prayers beseeched the Heavenly Father in the imminence of his sacrifice; It enjoys delightful peace, knowing itself to be intimately United with Christ in those prayers» (AAS 54 [1962], 793). This is Pope John.

Yes, dear brothers and sisters in Christ, let us all feel intimately united to the prayer of our Savior in the Last Supper, to his invocation: ut unum sint. Let us ask the merciful Father to live in fullness that faith that we received as a gift on the day of our baptism, and to be able to bear free, courageous and joyful testimony to it. This will be our best service to the cause of unity among Christians, a service of hope to a world still marked by divisions, by contrast and rivalry. The more we are faithful to His will, in our thoughts, words and deeds, the more we will actually and substantially walk towards unity.

For my part, I wish to assure you, in the wake of my predecessors, of my determination to continue on the path of ecumenical dialogue and I would like to thank in advance the Pontifical Council for Promoting Christian Unity, for the help that it will continue to offer, in my name, for this noble cause. I ask you, dear brothers and sisters, to bring my cordial greeting and the assurance of my remembrance in the Lord Jesus to the churches and Christian communities here represented, and request of you the charity of a special prayer for my person, to be a pastor according to the heart of Christ.

And now I turn to you distinguished representatives of the Jewish people, to which we are joined in a very special spiritual bond, since, as the Second Vatican Council affirms, the Church of Christ acknowledges that "the beginnings of her faith and her election are already, according to the divine mystery of salvation, in the Patriarchs, Moses, and the prophets" (Declar. Nostra aetate, 4). Thank you for your presence and I am confident that, with the help of the Almighty, we will be able to continue profitably that fraternal dialogue that the Council advocated (cf. ibid.) and that has actually been accomplished, bringing many fruits, especially in recent decades.

I then greet and cordially thank you all, dear friends belonging to other religious traditions; first of all the Muslims, who worship the one God, living and merciful, and call upon Him in prayer, and all of you. I really appreciate your presence: in it I see a tangible sign of the will to grow in mutual esteem and cooperation for the common good of humanity.

The Catholic Church is aware of the importance of promoting friendship and respect between men and women of different religious traditions – I wish to repeat this: promoting friendship and respect between men and women of different religious traditions – it also attests the valuable work that the Pontifical Council for interreligious dialogue performs. It is equally aware of the responsibility that we all have towards this world of ours, towards all of Creation, that we should love and protect. And we can do much for the sake of the poorest, those who are weak and who suffer, to promote justice, to promote reconciliation and to build peace. But, above all, we need to keep alive in the world the thirst for the absolute, not allowing to prevail a one-dimensional vision of the human person, according to which man is reduced to what he produces and consumes: this is this one of the most dangerous pitfalls for our time.

We know how much violence has been produced in recent history by the attempt to eliminate God and the divine from the horizon of humanity, and we experience the value of witnessing in our societies to the original opening to transcendence that is inherent in the human heart. In this, we feel close even to all those men and women who, whilst not recognising themselves belonging to any religious tradition, feel themselves nevertheless to be in search of truth, goodness and beauty, this truth, goodness and beauty of God, and who are our precious allies in efforts to defend the dignity of man, in building a peaceful coexistence among peoples and in guarding Creation carefully.

Dear friends, thank you again for your presence. To everyone I extend my cordial and fraternal greeting. (Address to Representatives of the Schismatic and Heretical Orthodox Churches, Protesant sects, Talmudists, Mohammedans and Other Infidels, Masons and Pantheists.)
There would be numerous occasions in the succeeding months whereon Bergoglio would say that the Mohammedans worship the "one God" and that the leader of the Greek Orthodox Church was his "brother." Bergoglio was just in the "bullpen," so to speak, as he warmed up to the task of expediting the processes of the conciliar revolution.
Jorge Mario Bergoglio/Francis really does not believe that a Successor of Saint Peter has any kind of authority over his own "bishops" no less over leaders of non-Catholic religions, starting with his "Brother Andrew" when referring to the Greek Orthodox Patriarch of Constantinople yesterday. What Bergoglio/Francis does not understand is that this "Andrew" is no longer in the "family," that he is a heretic and schismatic whose full conversion to the true Faith must be sought, something that Pope Leo XIII did in Praeclara Gratulationis Publicae, June 29, 1894.
Like his predecessors before him, Jorge Mario Bergoglio believes that "Christian unity" is not something for which to "search" or "work." It exists solely in the Catholic Church as part of her Divine Constitution. She is the one and only Church of Christ:
Actually only those are to be included as members of the Church who have been baptized and profess the true faith, and who have not been so unfortunate as to separate themselves from the unity of the Body, or been excluded by legitimate authority for grave faults committed. "For in one spirit" says the Apostle, "were we all baptized into one Body, whether Jews or Gentiles, whether bond or free." As therefore in the true Christian community there is only one Body, one Spirit, one Lord, and one Baptism, so there can be only one faith. And therefore, if a man refuse to hear the Church, let him be considered – so the Lord commands – as a heathen and a publican. It follows that those who are divided in faith or government cannot be living in the unity of such a Body, nor can they be living the life of its one Divine Spirit. (Pope Pius XII, Mystici Corporis, June 29, 1943.)
Following in the footsteps of Joseph Ratzinger/Benedict XVI, Bergoglio has used the past year to repeat the old canard of "fighting irreligion with religion" that the proto-ecumenists of the early Twentieth Century and the conciliar "popes" have been using each time that a smelly feline might drag it in off out of the gutters for their use. Here is the ringing condemnation of that canard:
Is it not right, it is often repeated, indeed, even consonant with duty, that all who invoke the name of Christ should abstain from mutual reproaches and at long last be united in mutual charity? Who would dare to say that he loved Christ, unless he worked with all his might to carry out the desires of Him, Who asked His Father that His disciples might be "one." And did not the same Christ will that His disciples should be marked out and distinguished from others by this characteristic, namely that they loved one another: "By this shall all men know that you are my disciples, if you have love one for another"? All Christians, they add, should be as "one": for then they would be much more powerful in driving out the pest of irreligion, which like a serpent daily creeps further and becomes more widely spread, and prepares to rob the Gospel of its strength. These things and others that class of men who are known as pan-Christians continually repeat and amplify; and these men, so far from being quite few and scattered, have increased to the dimensions of an entire class, and have grouped themselves into widely spread societies, most of which are directed by non-Catholics, although they are imbued with varying doctrines concerning the things of faith. This undertaking is so actively promoted as in many places to win for itself the adhesion of a number of citizens, and it even takes possession of the minds of very many Catholics and allures them with the hope of bringing about such a union as would be agreeable to the desires of Holy Mother Church, who has indeed nothing more at heart than to recall her erring sons and to lead them back to her bosom. But in reality beneath these enticing words and blandishments lies hid a most grave error, by which the foundations of the Catholic faith are completely destroyed. (Pope Pius XI, Mortalium Animos, January 6, 1928.)
That takes care of two conciliar canards ("that they may all be one" and "fighting irreligion with religion") in one paragraph. My thanks to Achille Ratti, who was, of course, Pope Pius XI.
As was the case with each of the conciliar "popes" before him, Berogoglio has told us constantly over the course of the last year that the  the Catholic Church respects false religions, something that he has proved amply, especially from reciting prayers directly from the blasphemous Talmud with his friend Abraham Skorka at the Casa Santa Marta nearly six months ago now:
Everyone should avoid familiarity or friendship with anyone suspected of belonging to masonry or to affiliated groups. Know them by their fruits and avoid them. Every familiarity should be avoided, not only with those impious libertines who openly promote the character of the sect, but also with those who hide under the mask of universal tolerance, respect for all religions, and the craving to reconcile the maxims of the Gospel with those of the revolution. These men seek to reconcile Christ and Belial, the Church of God and the state without God. (Pope Leo XIII, Custodi Di Quella Fede, December 8, 1892.)
March 22, 2013:
Jorge Mario Bergoglio gave a Judeo-Masonic address to diplomats accredited to the Holy See, making it clear once again that "religion" "builds bridges," although Pope Saint Pius X had explained in Notre Charge Apostolique, August 15, 1910, that "there is no true civilization without a moral civilization, and no true moral civilization without the true religion: it is a proven truth, a historical fact."
Here is a brief excerpt from Bergoglio's March 22, 2013, address to diplomats:
One of the titles of the Bishop of Rome is Pontiff, that is, a builder of bridges with God and between people. My wish is that the dialogue between us should help to build bridges connecting all people, in such a way that everyone can see in the other not an enemy, not a rival, but a brother or sister to be welcomed and embraced! My own origins impel me to work for the building of bridges. As you know, my family is of Italian origin; and so this dialogue between places and cultures a great distance apart matters greatly to me, this dialogue between one end of the world and the other, which today are growing ever closer, more interdependent, more in need of opportunities to meet and to create real spaces of authentic fraternity.

In this work, the role of religion is fundamental. It is not possible to build bridges between people while forgetting God. But the converse is also true: it is not possible to establish true links with God, while ignoring other people. Hence it is important to intensify dialogue among the various religions, and I am thinking particularly of dialogue with Islam. At the Mass marking the beginning of my ministry, I greatly appreciated the presence of so many civil and religious leaders from the Islamic world. And it is also important to intensify outreach to non-believers, so that the differences which divide and hurt us may never prevail, but rather the desire to build true links of friendship between all peoples, despite their diversity.

Fighting poverty, both material and spiritual, building peace and constructing bridges: these, as it were, are the reference points for a journey that I want to invite each of the countries here represented to take up. But it is a difficult journey, if we do not learn to grow in love for this world of ours. Here too, it helps me to think of the name of Francis, who teaches us profound respect for the whole of creation and the protection of our environment, which all too often, instead of using for the good, we exploit greedily, to one another's detriment.

Dear Ambassadors, Ladies and Gentlemen,

Thank you again for all the work that you do, alongside the Secretariat of State, to build peace and construct bridges of friendship and fraternity. Through you, I would like to renew to your Governments my thanks for their participation in the celebrations on the occasion of my election, and my heartfelt desire for a fruitful common endeavour. May Almighty God pour out his gifts on each one of you, on your families and on the peoples that you represent. Thank you! (To the Diplomatic Corps accredited to the Holy See, March 22, 2013.)
In speaking this way, of course, Jorge Mario Bergoglio was merely following the example of each of his five predecessors, including Joseph Ratzinger/Benedict XVI.
The Social Reign of Christ the King?
Perish the thought.
We need to "build bridges," remember?
It is no wonder at all that Italian Masons have issued the following statement upon the "election" of Jorge Mario Bergoglio/Francis:
Grand Master Raffi: "With Pope Francis, nothing will be more as it was before. It is a clear choice of fraternity for a Church of dialogue, which is not contaminated by the logic and temptations of temporal power"

"A man of the poor far away from the Curia. Fraternity and the desire to dialogue were his first concrete words. Perhaps nothing in the Church will be as it was before. Our hope is that the pontificate of Francis, the Pope who 'comes from the end of the world' can mark the return to the Church-Word instead of the Church-Institution, promoting an open dialogue with the contemporary world, with believers and non-believers, following the springtime of Vatican II." These were the comments of Gustavo Raffi, Grand Master of the Grand Orient of Italy, at the beginning of the pontificate of Francis, in the world Jorge Mario Bergoglio.

"The Jesuit who is close to the least ones of history," Raffi continues, "has the great opportunity to show the world the face of a Church that must recover the announcement of a new humanity, not the weight of an institution that closes itself off in defense of its own privileges. Bergoglio knows real life and will remember the lesson of one of his favorite theologians, Romano Guardini, for whom the truth of love cannot be stopped.

"The simple cross he wore on his white cassock," concludes the Grand Master of Palazzo Giustiniani, "lets us hope that a Church of the people will re-discover its capacity to dialogue with all men of good will and with Freemasonry, which, as the experience of Latin America teaches us, works for the good and progress of humanity, as shown by Bolivar, Allende and José Martí, to name only a few. This is the 'white smoke' that we expect from the Church of our times."  (Italian Freemasonry officially supports Brother Bergoglio.)
Anyone who re-reads the passage from Pope Leo XIII's condemnation of Freemasonry in Italy, Custodi di Quella Fede, December 8, 1892, that was cited above and believes that Joseph Ratzinger/Benedict XVI and Jorge Mario Bergoglio/Francis do not stand equally condemned is not being honest with himself, perhaps afraid to admit that which the evidence that the conciliar "popes" have provided themselves demonstrate conclusively that they are not Catholics and that their entire religion of conciliarism is the antithesis of Catholicism.
March 23, 2013:
The two-headed "pope" monster makes its first public appearance: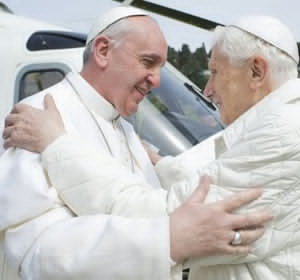 What's that about a picture being worth a thousand words?
March 25, 2013, Monday in Holy Week:
Jorge Mario Bergoglio sent a letter on Monday, March 25, 2013, Monday in Holy Week, to the chief Talmudist in Rome, Rabbi Riccardo di Segni, to express his best wishes for the Talmudic observance of Passover, a feast that was superseded by the New and Eternal Passover instituted by Our Blessed Lord and Saviour Jesus Christ at the Last Supper and that He ratified by the shedding of every single drop of His Most Precious Blood on the wood of the Holy Cross on Good Friday:
VATICAN CITY — A few hours before Rome's Jewish community was to begin its Passover observances, Pope Francis sent a brief note praying that God would bless them and asking community members for their prayers.

"May the Almighty, who freed his people from slavery in Egypt to guide them to the Promised Land, continue to free you from every evil and accompany you with his blessing," the pope said in the message delivered March 25.

Passover, the eight-day commemoration of God freeing the Jewish people from slavery in Egypt, was set to begin that evening.

Thanking Rabbi Riccardo di Segni, chief rabbi of Rome, for attending his inaugural Mass March 19 and a meeting with religious leaders the next day, Pope Francis said, "I am particularly pleased to extend to you and the entire Rome community my most fervent wishes for the great Passover feast.

"I ask you to pray for me, while I assure you of my prayers for you, trusting that we can deepen the bonds of esteem and mutual respect," the pope said.

On the website of Rome's Jewish community, Rabbi di Segni said he appreciated the message and planned to respond with a message wishing the pope and Rome's Christians a happy Easter. (Pope Francis wishes Jewish community happy Passover, asks for prayers.)
Here is the antidote to this apostasy:
29.And first of all, by the death of our Redeemer, the New Testament took the place of the Old Law which had been abolished; then the Law of Christ together with its mysteries, enactments, institutions, and sacred rites was ratified for the whole world in the blood of Jesus Christ. For, while our Divine Savior was preaching in a restricted area — He was not sent but to the sheep that were lost of the house of Israel [30] -the Law and the Gospel were together in force; [31] but on the gibbet of his death Jesus made void the Law with its decrees, [32] fastened the handwriting of the Old Testament to the Cross, [33] establishing the New Testament in His blood shed for the whole human race. [34] "To such an extent, then," says St. Leo the Great, speaking of the Cross of our Lord, "was there effected a transfer from the Law to the Gospel, from the Synagogue to the Church, from many sacrifices to one Victim, that, as our Lord expired, that mystical veil which shut off the innermost part of the temple and its sacred secret was rent violently from top to bottom." [35]

30. On the Cross then the Old Law died, soon to be buried and to be a bearer of death, [36] in order to give way to the New Testament of which Christ had chosen the Apostles as qualified ministers; [37] and although He had been constituted the Head of the whole human family in the womb of the Blessed Virgin, it is by the power of the Cross that our Savior exercises fully the office itself of Head in His Church. "For it was through His triumph on the Cross," according to the teaching of the Angelic and Common Doctor, "that He won power and dominion over the gentiles"; [38] by that same victory He increased the immense treasure of graces, which, as He reigns in glory in heaven, He lavishes continually on His mortal members it was by His blood shed on the Cross that God's anger was averted and that all the heavenly gifts, especially the spiritual graces of the New and Eternal Testament, could then flow from the fountains of our Savior for the salvation of men, of the faithful above all; it was on the tree of the Cross, finally, that He entered into possession of His Church, that is, of all the members of His Mystical Body; for they would not have been united to this Mystical Body. (Pope Pius XII, Mystici Corporis, June 29, 1943.)
Jorge Mario Bergoglio/Francis is a figure of Judas Iscariot and a figure of Antichrist, continuing the wretched denials of the infallible teaching of the Catholic Church by daring to give public recognition to a false religion and its false rituals and observances.
Catholic teaching is clear,and Jorge Mario Bergoglio/Francis is on the wrong side of Catholic teaching.
Enough.
It was on that same day, Monday in Holy Week last year, that a Mohammedan convert to what he thought was Catholicism at the hands of Joseph Ratzinger/Benedict XVI on Holy Saturday, March 20, 2008, Magdi Cristiano Allam, announced that he was leaving what he thought was the Catholic Church. The reason? Jorge Mario Bergoglio's praise of Mohammedanism:
VATICAN CITY (RNS) A high-profile Italian Muslim who converted to Catholicism and was baptized by Pope Benedict XVI announced on Monday (March 25) that he will leave the church to protest its soft stance against Islam.

Egyptian-born Magdi Cristiano Allam, 61, a prominent journalist and outspoken critic of Islam, publicly entered the Catholic Church on March 22, 2008 during an Easter Vigil service, receiving baptism directly from Benedict.

After his conversion, Allam founded a small right-wing political party that lost badly in Italy's general elections last April.

Writing on Monday in the right-wing daily Il Giornale, Allam explained that he considers his conversion to Catholicism finished "in combination with the end of (Benedict's) pontificate."

"The 'papolatry' that has inflamed the euphoriafor Francis I and has quickly archived Benedict XVI was the last straw in an overall framework of uncertainty and doubts about the Church," he wrote.

On Friday, Francis pledged to "intensify dialogue among the various religions," particularly Islam.

Allam, who has called Islam an "intrinsically violent ideology," said his main reason for leaving the church was its perceived "religious relativism, in particular the legitimization of Islam as a true religion."

"Europe will end up being subjugated to Islam," he warned in Il Giornale, unless it "finds the courage to denounce Islam as incompatible with our civilization and fundamental human rights," and to "banish the Quran for inciting hatred, violence and death towards non-Muslims." Europeans also need to "condemn Sharia as a crime against humanity" and to "stop the spread of mosques."

Allam said he would remain a Christian but that he didn't "believe in the church anymore."

Allam's surprise conversion was orchestrated by Archbishop Rino Fisichella, currently head of the Pontifical Council for the New Evangelization, who "personally accompanied" the Muslim intellectual's approach to the Catholic faith.

At the time, the Vatican's chief spokesman, the Rev. Federico Lombardi, stressed that the conversion was the result of Allam's "personal journey" and was not intended as a direct message to Muslims.

A leading Muslim intellectual involved in interfaith dialogue with the Vatican, Aref Ali Nayed, criticized the public conversion ceremony as a "triumphalist way to score points," and said it raised "serious doubts" about the Catholic Church's policy toward Islam. (Magdi Allam, Muslim Convert, Leaves Catholic Church, Says It's Too Weak Against Islam.)
What did Bergoglio care?
He could–and probably did–dismiss Magdi Cristiano Allam as just another misguided, intolerant Pharisee or triumphalist.
March 28, 2013, Maundy Thursday:
Jorge Mario Bergoglio chose to offer the Protestant and Judeo-Masonic liturgical service in a juvenile prison, Casa del Marmo, during which he washed the feet of two women, one of whom was a Mohammedan.
How can a man hold the Catholic Faith when he makes a mockery of the worship that is due the Most Blessed Trinity by staging an alleged "Mass of the Lord's Supper" on Maundy Thursday in a prison while a "charismatic group" provided music accompanied by "an acoustic guitar"?
VATICAN CITY (CNS) — Pope Francis told young inmates that, just as Jesus came to help and serve others, he, too, was at their service as a priest and bishop.

During the evening Mass at Rome's Casal del Marmo prison for minors, Pope Francis washed the feet of 12 young people of different nationalities and faiths, including at least two Muslims and two women, who are housed at the juvenile detention facility.

The ceremony of washing another's feet "is important," the pope said, because it shows that "the person who is most high among us must be at the service of the others."

It also means that "we have to help one another, each one," he said during the Holy Thursday Mass of the Lord's Supper March 28.

The pope broke with a papal Holy Week tradition of celebrating the evening Mass at a Rome basilica.

While the prison Mass marked a first for the modern papacy, the practice was nothing new to Pope Francis who, as archbishop of Buenos Aires, used to celebrate the Mass of the Lord's Supper — which reflects on the call to imitate Christ by serving one another and commemorates Jesus' institution of the Eucharist — in prisons, hospitals or shelters for the poor and marginalized.

Held in the prison's small chapel, the Mass was the second of two Holy Thursday liturgies over which the pope presided. The first was a morning chrism Mass in St. Peter's Basilica.

The nearly 50 detainees, including about a dozen women, attended the Mass. Detainees did the readings and led the prayers of the faithful.

A group of young people who volunteer at the prison as well as a local charismatic group provided the music, playing acoustic guitar and leading the singing.

In his brief homily, which he delivered off-the-cuff, Pope Francis explained what the ritual he was about to perform meant and what Jesus was teaching his disciples when he washed their feet at the Last Supper.

"To wash your feet, this is a symbol, a sign that I am at your service," the pope said. "But it also means that we have to help each other."

He told the young detainees that it was normal to get mad at others, "but let it be, let it be." If that person "asks you a favor, do it. Let's help each other," he told them.

He added that he would wash their feet with love.

"I do it with my heart because it is my duty as priest and as bishop; I have to be at your service," he said.

"It's a duty that comes from my heart because I love doing this, because this is what the Lord taught me," he added.

"This sign is a caress from Jesus," he said, "because Jesus came exactly for this, to serve and to help us." (Pope washes feet of 12 young detainees to serve them 'from the heart' .)
An acoustic guitar as a fit instrument to be used in any staging of what purports to be Holy Mass?
Kissing the feet of two Mohammedans, including one woman? (Sure, women having their feet washed is a standard-issue phenomenon in the conciliar world on Maundy Thursday. That's pretty old hat by now. Golly gee, even layman Jorge Mario Bergoglio did it when he was masquerading as the archbishop of Buenos Aires, Argentina.)
A Mohammedan woman?
Pope Francis continued his gleeful abandonment of tradition by washing the feet of a young Muslim woman prisoner in an unprecedented twist on the Holy Thursday tradition.

While popes have for centuries washed the feet of the faithful on the day before Good Friday, never before had a pontiff washed the feet of a woman. That one of the female inmates at the prison in Rome was also a Serbian Muslim was also a break with tradition.

"There is no better way to show his service for the smallest, for the least fortunate," said Gaetano Greco, a local chaplain.

Pope Francis washed the feet of 12 inmates aged 14 to 21, among them the two women, the second of whom was an Italian Catholic. Mr Greco said he hoped the ritual would be "a positive sign in their lives".

Catholic traditionalists are likely to be riled by the inclusion of women in the ceremony because of the belief that all of Jesus' disciples were male. (Pope washes feet of young Muslim woman prisoner in unprecedented twist on Maundy Thursday – Telegraph.)
Why not?
Bergoglio, beginning just his third week as the universal public face of apostasy, was tellig the world that It was  liturgical free-fall time again in the Novus Ordo world, and sappy "conservative" Catholics were not able to say, "Gee, if only the 'pope' knew about these bad liturgies in my parish" as their "pope" staged the exact things as an alleged Successor of Saint Peter.
Our Blessed Lord and Saviour Jesus Christ washed the feet of the Apostles to teach them that they had to serve others by cleansing their immortal souls in the Sacred Tribunal of Penance. The dirt on their feet represented the muck and mire of the world, the flesh and the devil. That dirt is washed away when a soul in Mortal Sin is regenerated unto the very inner life of the Most Blessed Trinity in the Sacred Tribunal of Penance and when a soul who has confessed Venial Sins needs strengthening to root out vice and grow in virtue.
Our Lord came to save us, Jorge, by dying on the wood of the Holy Cross. That is how a priest is supposed to serve others as helps them to be holy and thus to be ready to possess the glory of the Beatific Vision of God the Father, God the Son and God the Holy Ghost for all eternity in an unending Easter Sunday of glory in Heaven.
Saving souls?
The thought is foreign to the mind of the "street priest of the poor," Jorge Mario Bergoglio?
March 29, 2013, Good Friday:
As has been the case since 1980, Father Raniero Cantalamessa, O.F.M., Cap., who is a true priest, preached in the Basilica of Saint Peter on Good Friday last year as the layman posing as "Pope" Francis, Jorge Mario Bergoglio, listened. What he heard was melodious music to his apostate ears:
We must do everything possible so that the Church may never look like that complicated and cluttered castle described by Kafka, and the message may come out of it as free and joyous as when the messenger began his run. We know what the impediments are that can restrain the messenger: dividing walls, starting with those that separate the various Christian churches from one another, the excess of bureaucracy, the residue of past ceremonials, laws and disputes, now only debris.

In Revelation, Jesus says that He stands at the door and knocks (Rev 3:20). Sometimes, as noted by our Pope Francis, he does not knock to enter, but knocks from within to go out. To reach out to the "existential suburbs of sin, suffering, injustice, religious ignorance and indifference, and of all forms of misery."

As happens with certain old buildings. Over the centuries, to adapt to the needs of the moment, they become filled with partitions, staircases, rooms and closets. The time comes when we realize that all these adjustments no longer meet the current needs, but rather are an obstacle, so we must have the courage to knock them down and return the building to the simplicity and linearity of its origins. This was the mission that was received one day by a man who prayed before the Crucifix of San Damiano: "Go, Francis, and repair my Church".

"Who could ever be up to this task?" wondered aghast the Apostle before the superhuman task of being in the world "the fragrance of Christ"; and here is his reply, that still applies today: "We're not ourselves able to think something as if it came from us; our ability comes from God. He has made us to be ministers of a new covenant, not of the letter but of the Spirit; because the letter kills, but the Spirit gives life"(2 Cor 2:16; 3:5-6).

May the Holy Spirit, in this moment in which a new time is opening for the Church, full of hope, reawaken in men who are at the window the expectancy of the message, and in the messengers the will to make it reach them, even at the cost of their life. (Clerical Heretic Cantalamessa Preaches to Lay Heretic Bergoglio.)
What are "dividing walls?" you might ask.
Catholic doctrines, especially as proclaimed in the Second Millennium without the assent of the Orthodox and under the influence of the "rigid" Scholasitcist named Saint Thomas Aquinas. That's what.
Cantalamessa's "excess bureaucracy" is not merely the existence of different dicasteries in the Vatican but of the very fact that even the counterfeit church of conciliarism's alleged Code of Canon Law and the judicial machinery necessary to interpret and enforce gets "in the way" of "evangelization." This is seen clearly when one considers the heretical charismatic's description of "the residue of past ceremonials, laws and disputes, now only debris."
Yes, the Immemorial Mass of Tradition? Just debris, the residue of past ceremonials.
Disputes?
Well, little things such as the Filioque, the Council of Trent's condemnation of Protestantism, Pope Pius IX's The Syllabus of Errors, Pope Saint Pius X's Pascendi Dominici Gregis and The Oath Against Modernism. So much complexity, so much pettiness, you understand.
Laws? Among other things, Cantalamessa was condemning the 1917 Code of Canon Law's prohibition against "inter-religious prayer services" whose origins date back to Apostolic times (see (The Laws of God Forbidding All Communication in Religion With Those of a False Religion) and that was referenced by the late Archbishop Marcel Lefebvre in 1986.
Cantalamessa also managed to defame and blaspheme Saint Francis of Assisi himself, who loved the ceremonies of the Catholic Faith as one whose desire to repair Holy Mother Church was precisely what the conciliar revolutionaries have been doing and what Jorge Mario Bergoglio/Francis has done in the short space of seventeen days and what he intends to keep on doing until he returns to Buenos Aires after he decides to resign in order to pass on the baton of conciliarism to another revolutionary layman.
Saint Francis of Assisi loved the integrity of Catholic doctrine and he desire to rebuild the Church Militant earth whose clergy and laity had grow lax in their moral lives and to live a life of profound Eucharistic piety and deep devotion to the Mother of God so that more and more people would embrace Lady Poverty so that their souls, purified of earthly attachment, would recognize and reject any doctrine or way of living contrary to the Deposit of Faith. This effort to make Saint Francis of Assisi as a witness in behalf of conciliarism is nothing other than contemptible. It is from the devil. Saint Francis of Assisi's very Rule of Life was designed in its very simplicity to protect his mendicant friars from heresy.
A source that is not enough friendly to the great saint of Assisi's zeal for orthodoxy demonstrates that Cantalamessa is a liar and a deceiver:
A few years previously, in 1201, the pope had formally approved the reconciliation and reorganization, into three orders, of a group of religious zealots from northern Italy, the Humiliati, who had been condemned as heretics along with many others by Pope Lucius III in 1184. The three orders comprised, respectively, canons serving their own churches, lay people living in separate male and female communities, and married lay people leading normal working lives at home but meeting together on Sundays to hear sermons delivered by members of their congregations. In return for being allowed to pursue their way of life unmolested, the Humiliati observed strict orthodoxy in doctrine and supported the established clergy in combating heresy in their districts. Thus Francis' three orders, and especially the Tertiaries, were anticipated by the Humiliati. In 1208 Innocent III formally approved the reconstitution of another group of suspected heretics, the Poor Catholics, comprising disaffected clerics from Languedoc, when their leader, Durand of Huesca, swore loyalty to the pope and fidelity to orthodox doctrine. In 1210, yet another such group, mainly laymen called the Poor Men of Lyon, under Bernard of Prim, likewise received the pope's approval in return for various loyalty oaths.

Thus the period in which Francis grew up was one of great spiritual ferment, in which the church hierarchy was struggling to find ways to combat a rising tide of heterodox opposition and religious diversity, in which evangelical poverty and the preaching of repentance were leading themes. Francis was only one of a succession of grassroots religious leaders who headed to Rome for papal approval early in the new century. Although the pope and local bishops at times resorted to violence to suppress these proliferating dissident groups, they also saw the value of harnessing the spiritual energy of zealots like Francis who were amenable to being drawn, with their followers, into the structure of the church while retaining the apostolic identity that was evidently so appealing to the general populace. The Franciscans would become one of the papacy's most important and effective tools for implementing the new standards of pastoral care and parish life that were enunciated in the decrees of the Fourth Lateran Council of 1215, and the order's development fell increasingly under the influence of the church hierarchy. (The Life of Saint Francis: Introduction.)
Some attempted last year to save Cantalamessa's heresy in part by claiming that he was opposed to "religious ignorance and indifference." Nice try. No sale.
The truth is that Cantalamessa believes that it is enough for people to be "believers" and that it is indifference to "belief" in general that is ruining the world. This is nothing other than Judeo-Masonry. It is diabolical.
Yes, Jorge Mario Bergoglio had laid out his agenda of visceral revolutionary rhetoric and action in just a little over two and one-half weeks after his "election" on March 13, 2013. The subsequent eleven months would simple see a daily repetition of this agenda, which he put in manifested form in Evangelii Gaudium, November 26, 2013.
This review will continue in two days as there are other developments in the revolutionary world of the counterfeit church of conciliarism that need a bit of attention for tomorrow's posting.
In the meantime, of course, we must continue our Lenten resolutions of increased prayer, especially before the Most Blessed Sacrament, if at all possible, and to the Mother God, especially through her Most Holy Rosary, and to Saint Joseph, especially in this month of March, and we engage in fasting and other acts of penance to try to make a bit of reparation for our sins and those of the whole world, including the sins of those who engage in the revolutionary rhetoric and activity of conciliarism.
Vivat Christus Rex! Viva Cristo Rey !
Our Lady of the Rosary, pray for us.
Saint Joseph, pray for us.
Saints Peter and Paul, pray for us.
Saint John the Baptist, pray for us.
Saint John the Evangelist, pray for us.
Saint Michael the Archangel, pray for us.
Saint Gabriel the Archangel, pray for us.
Saint Raphael the Archangel, pray for us.
Saints Joachim and Anne, pray for us.
Saints Caspar, Melchior, and Balthasar, pray for us.