Yes, this series lives!
Intervening events have kept this action-packed review of Jorge Mario Bergoglio's first twelve months as the universal public face of apostasy for the past sixteen days. As several individuals have asked me for the next installment, several other articles have been placed on hold so that this series may be completed.
Obviously, a review of Bergoglio's apostasies is never truly complete as the Argentine Apostate keeps heaping hot coals upon his own head by means of his relentless attacks on the integrity of doctrine of the Holy Faith and his diabolically-inspired mockery of those who seek, despite their own sins and failings, to adhere to It.
It was just three  days ago, Tuesday, April 1, 2014, Tuesday in the Fourth Week of Lent, that Jorge Mario Bergoglio mocked and derided those who keep to the "formalities" of the Faith. To be honest, I have simply lost count of the seemingly endless numbers of times that Bergoglio has whacked away at his mythical straw men.
Although representing absolutely nothing new for him, a late-septuagenarian retread straight out of central casting from the Jesuit revolutionaries of the 1970s, the latest attack does demonstrate yet again the depths of the pathological sickness that lurks deep in the inner recesses of his soul:
(Vatican Radio) Pope Francis said Mass on Tuesday morning in the chapel of the Vatican's Casa Santa Marta guesthouse. In his remarks following the readings of the day, the Holy Father focused on the need for Christians to be really committed to discipleship, and prepared to take risks for the cause of the Gospel.

Concentrating on the passage proclaimed at the Gospel reading of the day, in which Jesus heals a paralyzed man at the pool of Bethesda on a Sabbath day, Pope Francis addressed both the spiritual malaise of the sick man, whom he healed, and of the Pharisees, who began to persecute and plot against Him because he healed the man on the Sabbath:

"I think of many Christians, of many Catholics: yes, they are Catholics, but without enthusiasm, even embittered. 'Yes, life is what it is, but the Church – I go to Mass every Sunday, but better not get mixed up in things – I have faith for my health, I do not feel the need to give it to another…'. Each in his own house, the quiet life: but, you do something and then they criticize you: 'No, leave it alone [It. è meglio così], don't chance it.' This is the disease of sloth, the acedia of Christians. This attitude that is crippling the apostolic zeal, which makes Christian people stand still and at ease, but not in the good sense of the word: they do not bother to go out to proclaim the Gospel! They are anesthetized."

Anesthesia, Pope Francis went on to say, "is a negative experience." It is that "not meddling" that becomes "spiritual sloth," which, he said, is a very sad thing, indeed. "These Christians are sad," said Pope Francis, "they are people without light – real downers [It. persone negative], and this is a disease of us Christians." We go to Mass every Sunday, though we say, "Please do not disturb." These Christians "without apostolic zeal," he warned, "are not useful, they do not do the Church well. And how many Christians are like this?" he asked, "selfish, out for themselves." This, he said, is "the sin of sloth, which is a sin against apostolic zeal, against the desire to give the news of Jesus to others, that newness, which was given to me for free." The Holy Father went on to say that in the day's Gospel passage, there is also another sin when we see that Jesus is criticized because he healed the sick on the Sabbath: the sin of formalism. "Christians," he said, "who do not leave space for the grace of God – and the Christian life, the life of these people, consists in having all the paperwork, all the certificates, in order.":

"Christian hypocrites, like these, only interested in their formalities. It was a Sabbath? No, you cannot do miracles on the Sabbath, the grace of God cannot work on Sabbath days. They close the door to the grace of God. We have so many in the Church, we have many! It is another sin. The first, those who have the sin of sloth, are not able to go forward with their apostolic zeal, because they have decided to stand firm in themselves, in their sorrows, their resentments, in all of that. Such as these are not capable of bringing salvation because they close the door to salvation."

"Only the formalities" matter to them, he said. "It is not possible: this is the phrase they have most often to hand." We meet these people, too, explained the Holy Father, "We ourselves have often been taken by this acedia, or have been many times like the Pharisees: hypocrites." Pope Francis went on to explain that, because temptations to these sins will inevitably come, "We must learn to defend ourselves." Faced with these temptations, before, "that field hospital there, which was a symbol of the Church," in front of "a lot of hurting people," Jesus approaches them and asks only one thing: "Do you want to be healed?" Then, "He gives the [paralytic man]. Grace accomplishes everything." And then, when he meets the paralytic again, he tells him, "Sin no more.":

"The two Christian words: do you want to be healed? Sin no more. First He heals [the paralytic], then [He says], 'sin no more.' – words spoken with tenderness, with love – and this is the Christian way, the way of apostolic zeal: to get close to many people who are injured and in this field hospital, often people whose wounds were inflicted by men and women of the Church. It is a word of a brother and of a sister: do you want to be healed? Then, when He goes on, 'Ah, do not sin any more, it is not good for you.' Much better: Jesus' two words are more beautiful than the attitude of sloth or the attitude of hypocrisy." (Ding School of Apostasy Session at Santa Marta focuses on sins of sloth, hypocrisy.)
Here is the meaning of this in a nutshell: Jorge Mario Bergoglio believes himself to be the exemplar of a true Christian. Those who do not follow his "humble" example of apostasy and adhere to "formalities" of doctrine and worship are nothing other than "slothful" "hypocrites." It is only because some of those who read these articles write to me now and again to express gratitude for them that I continue to write them as I really believe that there is no need to waste any more time on this horrible man.
Alas, a true Christian is a Catholic who does indeed adhere to everything contained in the Sacred Deposit of Faith without any exception whatsoever. The doctrine of the Holy Faith is not a matter of "inner experience" that borders on the irrational. It is a sacred deposit that has been revealed by Our Blessed Lord and Saviour Jesus Christ and entrusted by Him to His Catholic Church for Its eternal safekeeping and infallible explication.
A true Christian is a Catholic who understand that they can be no true charity in the world unless God is giving the fit worship that is His due in the Holy Sacrifice of the Mass, which is the unbloody re-presentation of perpetuation of His Divine Son's Sacrifice of Himself to Him on the wood of the Holy Cross in atonement for our sins. The Sacred Liturgy is not a celebration of "high fives," "praise dancing," clown-faces, applause, laughter, diabolical "music" and immodest, indecent attire.
One of the ironies here is that Karol Wojtyla/John Paul II condemned those who react against a certain liturgical "formalism" by instituting "unauthorized" liturgical innovations and adaptations without ever realizing the the very thing he condemned, which was being practiced at the time by Presbyter Bergoglio in Buenos Aires, Argentina, was but the inevitable consequence of the liturgical revolution that he supported and said in 1965 was necessary.
Here is what the then Archbishop Wojtyla (he was a true bishop) said in 1965, followed by two of his condemnations of the forces he helped to unleash:
Certainly we will preserve the basic elements, the bread, the wine, but all else will be changed according to local tradition: words, gestures, colors, vestments, chants, architecture, decor. The problem of liturgical reform is immense. (Archbishop Karol Wojtyla, 1965, Quoted and footnoted in Assault on the Roman Rite. This has also been noted on this site in the past, having been provided me by a reader who had access to the 1980 French book in which the quote is found.)

I consider it my duty, therefore to appeal urgently that the liturgical norms for the celebration of the Eucharist be observed with great fidelity. These norms are a concrete expression of the authentically ecclesial nature of the Eucharist; this is their deepest meaning. Liturgy is never anyone's private property, be it of the celebrant or of the community in which the mysteries are celebrated. The Apostle Paul had to address fiery words to the community of Corinth because of grave shortcomings in their celebration of the Eucharist resulting in divisions (schismata) and the emergence of factions (haireseis) (cf. 1 Cor 11:17-34). Our time, too, calls for a renewed awareness and appreciation of liturgical norms as a reflection of, and a witness to, the one universal Church made present in every celebration of the Eucharist. Priests who faithfully celebrate Mass according to the liturgical norms, and communities which conform to those norms, quietly but eloquently demonstrate their love for the Church. Precisely to bring out more clearly this deeper meaning of liturgical norms, I have asked the competent offices of the Roman Curia to prepare a more specific document, including prescriptions of a juridical nature, on this very important subject. No one is permitted to undervalue the mystery entrusted to our hands: it is too great for anyone to feel free to treat it lightly and with disregard for its sacredness and its universality. (Karol Wojtyla/John Paul II, Dominicae Cenae, February 24, 1980.)

All of this makes clear the great responsibility which belongs to priests in particular for the celebration of the Eucharist. It is their responsibility to preside at the Eucharist in persona Christi and to provide a witness to and a service of communion not only for the community directly taking part in the celebration, but also for the universal Church, which is a part of every Eucharist. It must be lamented that, especially in the years following the post-conciliar liturgical reform, as a result of a misguided sense of creativity and adaptation there have been a number of abuses which have been a source of suffering for many. A certain reaction against "formalism" has led some, especially in certain regions, to consider the "forms" chosen by the Church's great liturgical tradition and her Magisterium as non-binding and to introduce unauthorized innovations which are often completely inappropriate. (Karol Wojtyla/John Paul II, Ecclesia de Eucharistia, April 17, 2003.)
In other words, Karol Wojtyla/John Paul II condemned things that were but the inevitable result of the liturgical revolution while promoting one of the chief practitioners of what is considered to be "liturgical abuses" in the Protestant and Judeo-Masonic Novus Ordo liturgical service to be the conciliar "archbishop" of Buenos Aires, Argentina. As "Pope Francis," Jorge Mario Bergoglio has made war against any kind of liturgical "formalism," mooting even those parts of the General Instruction to the Roman Missal that are supposed to govern the staging of the conciliar liturgical service.
Such must be the path of all revolutions. The true hypocrites are to be found in the counterfeit church of conciliarism, whose leader is a self-righteous Pharisee by the name of Jorge Mario Bergoglio.
July 2013
Although the poor transcribers of the daily rants at the Ding Dong School Of Apostasy got a break when Jorge decided in early July of last year to suspend his daily screeds at the Casa Santa Marta for the remainder of the summer, the rest of us were not so blessed. Bergoglio kept at his work of apostasy nine months ago now, including issuing his first "encyclical letter," Lumen Fidei, and his trip to the extravaganza of blasphemy, sacrilege, apostasy, scandal and betrayal that was World Youth Day in Rio di Janiero, Brazil:
July 3, 2013: Jorge Bashes Mortifications. Jorge Mario Bergoglio used the Novus Ordo feast of Saint Thomas the Apostle to denounce the practice of bodily mortifications by which so many saints helped to bring their unruly passions under control and/or to deny themselves certain legitimate pleasures to show forth their desire to possess the glories of Heaven. Bergoglio also managed to deconstruct the very purpose

(Vatican Radio) To meet the living God we must tenderly kiss the wounds of Jesus in our hungry, poor, sick, imprisoned brothers and sisters. Study, meditation and mortification are not enough to bring us to encounter the living Christ. Like St. Thomas, our life will only be changed when we touch Christ's wounds present in the poor, sick and needy. This was the lesson drawn by Pope Francis during morning Mass at Casa Santa Marta Wednesday as he marked the Feast of St. Thomas Apostle.

Jesus after the Resurrection, appears to the apostles, but Thomas is not there: "He wanted him to wait a week – said Pope Francis – The Lord knows why he does such things. And he gives the time he believes best for each of us. He gave Thomas a week. " Jesus reveals himself with his wounds: "His whole body was clean, beautiful, full of light – said the Pope – but the wounds were and are still there" and when the Lord comes at the end of the world, "we will see His wounds". In order to believe Thomas wanted to put his fingers in the wounds.

"He was stubborn. But the Lord wanted exactly that, a stubborn person to make us understand something greater. Thomas saw the Lord, was invited to put his finger into the wounds left by the nails; to put his hand in His side and he did not say, 'It's true: the Lord is risen'. No! He went further. He said: 'God'. The first of the disciples who makes the confession of the divinity of Christ after the Resurrection. And he worshiped Him".

"And so – continued the Pope – we understand what the Lord's intention was when he made him wait: he wanted to guide his disbelief, not to an affirmation of the Resurrection, but an affirmation of His Divinity." The "path to our encounter with Jesus-God – he said – are his wounds. There is no other".

"In the history of the Church there have been some mistakes made on the path towards God. Some have believed that the Living God, the God of Christians can be found on the path of meditation, indeed that we can reach higher through meditation. That's dangerous! How many are lost on that path, never to return. Yes perhaps they arrive at knowledge of God, but not of Jesus Christ, Son of God, the second Person of the Trinity. They do not arrive at that. It is the path of the Gnostics, no? They are good, they work, but it is not the right path. It's very complicated and does not lead to a safe harbor. "

"Others – the Pope said – thought that to arrive at God we must mortify ourselves, we have to be austere and have chosen the path of penance: only penance and fasting. Not even these arrive at the Living God, Jesus Christ. They are the pelagians, who believe that they can arrive by their own efforts. " But Jesus tells us that the path to encountering Him is to find His wounds:

"We find Jesus' wounds in carrying out works of mercy, giving to our body – the body – the soul too, but – I stress – the body of your wounded brother, because he is hungry, because he is thirsty, because he is naked because it is humiliated, because he is a slave, because he's in jail because he is in the hospital. Those are the wounds of Jesus today. And Jesus asks us to take a leap of faith, towards Him, but through these His wounds. 'Oh, great! Let's set up a foundation to help everyone and do so many good things to help '. That's important, but if we remain on this level, we will only be philanthropic. We need to touch the wounds of Jesus, we must caress the wounds of Jesus, we need to bind the wounds of Jesus with tenderness, we have to kiss the wounds of Jesus, and this literally. Just think of what happened to St. Francis, when he embraced the leper? The same thing that happened to Thomas: his life changed. "

Pope Francis concluded that we do not need to go on a "refresher course" to touch the living God, but to enter into the wounds of Jesus, and for this "all we have to do is go out onto the street. Let us ask St. Thomas for the grace to have the courage to enter into the wounds of Jesus with tenderness and thus we will certainly have the grace to worship the living God. " (We encounter the Living God through His wounds.)
Jorge made a very bold misrepresentation of why Our Blessed Lord and Saviour Jesus Christ permitted Saint Thomas the Apostle, whose feast day in the Catholic Church, by the way, is December 21, not July 3, to touch the nail prints in his hands to put his hand inside of His wounded side that had been pierced by the lance of Saint Longinus.
Father George Haydock explained that it was precisely to prove the fact of His Resurrection to Saint Thomas the Apostle that He instructed him to act as Chapter Twenty in the Gospel according to Saint John records for us:
Ver. 25. I will not believe. St. Cyril thinks, that the grief and trouble St. Thomas was under, might partly excuse his want of belief: however, we may take notice with St. Gregory, the his backwardness in believing, was permitted for the good of Christians in general, that thereby they might be more convinced of Christ's resurrection. (Witham) — The doubts of St. Thomas are of greater advantage to the strengthening of our faith, than the ready belief of the rest of the apostles. For when he proceeded to touch, to assure his faith, our minds, laying aside every, even the least doubt, are firmly established in faith. (St. Gregory the Great)

Ver. 27. Put in thy finger hither. Christ, to shew he knew all things, made use of the very same words in which St. Thomas had expressed his incredulous dispositions. Our blessed Redeemer would have the mark of the spear, and the prints of the nails to remain in his glorified body, to convince them it was the same body: and that they might be for ever marks of his victory and triumph over sin and the devil. The evangelist does not say, that St. Thomas went and touched Christ's body, though it is very probable he did as he was ordered. But how could a body that entered in, when the doors were shut, be felt, or be palpable? St. Chrysostom[2] answers, that Christ at that time permitted his body to be palpable, and to resist another body, to induce St. Thomas to believe the resurrection; and that when he pleased, his body could not be felt. In like manner, his body was either visible or invisible, as he had a will it should be. In fine, he could eat in their sight, though he stood not in need of any nourishment. See St. Augustine. (Haydock Commentary: ST. JOHN – Chapter 20.)
Bergoglio is at his "best," shall we say, when boldly misrepresenting and distorting the words of Sacred Scripture.
Insofar as Bergoglio's condemnation of mortification, perhaps it is best to call to mind the example of Saint Francis of Assisi himself:
40. Especially in our days franciscana have been studied more profoundly by the learned and a great number of works printed in various languages have seen the light of day. The talents, too, of artists who have made works of great artistic value have succeeded in arousing an almost limitless admiration for St. Francis among our contemporaries despite the fact that sometimes this admiration is not based on a true understanding of the Saint. Some admired in him the character of the poet by which he so wonderfully expressed the sentiments of his soul, and his famous Canticle became the delight of learned men who recognized in it one of the first great poems of the early Italian language. Others were taken by his love of nature, for he not only seemed fascinated by the majesty of inanimate nature, by the splendor of the stars, by the beauty of his Umbrian mountains and valleys, but, like Adam before his fall in the Garden of Eden, Francis even spoke to the animals themselves. He appears to have been joined to them in a kind of brotherhood and they were obedient to his every wish. Others praised his love of country because in him Our Italy, which boasts the great honor of having given him birth, found a more fruitful source of blessings than any other country. Others, finally, honor him for that truly singular and catholic love with which he embraced all men. All of this is quite admirable but it is the least that is to be praised in our Saint, and it all must be understood in a correct sense. If we stop at these aspects of his life and look upon them as the most important, or change their import so as to justify either our own morbid ideas or excuse our false opinions, or to uphold thereby some of our prejudices, it is certain that we would not possess a genuine picture of the real Francis. As a matter of fact, by his practice of all the virtues in a heroic manner, by the austerity of his life and his preaching of penance, by his manifold and restless activity for the reformation of society, the figure of Francis stands forth in all its completeness, proposed to us not so much for the admiration as for the imitation of Christian peoples. As the Herald of the Great King, his purposes were directed to persuading men to conform their lives to the dictates of evangelical sanctity and to the love of the Cross, not that they should become mere friends or lovers of flowers, birds, lambs, fishes or hares. He seemed filled with a great and tender affection for animals, and "no matter how small they were" he called them all "by the name of brother and sister"-a love which if it is kept within bounds is assuredly not prohibited by any law. This love of animals was due to no other cause than his own love of God, which moved him to love these creatures because he knew that they had the same origin as he (St. Bonaventure, Legenda Maior, Chap VIII, No. 6) and in them all he perceived the goodness of God. St. Francis, too, "saw the image of the Beloved imprinted on all things, and made of these things a ladder whereby to reach His throne." (Thomas of Celano, Legenda, Chap. II, No. 165)  (Pope Pius XI, Rite Epiatos, April 13, 1926.)
Francis The Insidious Little Pest is far, far from the spirit of Saint Francis of Assisi.
July 5, 2013: Two for the Price of One. Jorge Mario Bergoglio signed the decree to "canonize" Angelo Roncalli/John XXIII and Karol Wojtyla/John Paul II together at a date to be announced. As we know, of course, that double non-canonization of conciliarism's plaster saints will take place on Low Sunday, April 27, 2014, which is known as "Divine Mercy Sunday" in the counterfeit church of conciliarism.
Here is a news report concerning the pending "canonizations," including the fact that the conciliar authorities could not even invent a second "miracle" to advance the cause of Angelo Roncalli/John XXIII to the "hall of fame" for conciliar apostates:
(Vatican Radio) Journalists in the Holy See Press Office busy getting to grips with Pope Francis' first encyclical the Light of Faith, were somewhat surprised Friday lunchtime when Director Fr. Federico Lombardi S.J. called them back for a second announcement: Pope Francis had approved the cause for canonization of two of his venerable and much loved predecessors Blessed John XXIII and Blessed Pope John Paul II. Emer McCarthy reports:

Meeting with Cardinal Angelo Amato, Prefect of the Congregation for the Cause of Saints, Friday morning, Pope Francis approved the promulgation of the decree and also convoked a special Consistory of the College of Cardinals to discuss the canonization of the Polish pope in depth.

Furthermore, he approved the favorable votes of the Ordinary Session of the Congregations Cardinals and Bishops regarding the raising to the altars of sainthood of Blessed John XXII.

This slightly unusual gesture was explained by Fr. Lombardi who told journalists that despite the absence of a second miracle it was the Pope's will that the Sainthood of the great Pope of the Second Vatican Council be recognized.

Fr. Lombardi stated that a canonization without a second miracle is still valid, given that there is already the existing miracle that lead to the Roncalli Pope's beatification. He also pointed to ongoing discussions among theologians and experts about whether it is necessary to have two distinct miracles for beatification and canonization. Certainly, he added the Pope has the power to dispense, in a Cause, with the second miracle.

However, there was no mention of dates. Neither for the Consistory nor for the Canonizations. Fr. Lombardi did not rule out that both celebrations could coincide, and he did express his belief that they would take place by the end of the year. Either way any date would be established during the Consistory. (Francis the Insidious Little Pest signs "canonization" decrees for John XXIII and John Paul II.)
This is all nothing other than the making of plaster "saints" for purely ideological reasons. The ideology being promoted in this instance is conciliarism itself and its false doctrines, sacrilegious liturgies and condemned pastoral practices. No believing Catholic can take this seriously as it is simply the work of enemies of Christ the King and the souls He redeemed by the shedding of every single drop of His Most Precious Blood during His Passion and Death. Those in the "resist while recognize" movement, however, must accept these "canonizations" or set themselves up as the supreme judges of the man they believe the Sovereign Pontiff, something that is without any justification in the history of the Catholic Church.  (Please see In Search of Roncalli's "Miracle",
July 5, 2013: Jorge Issues Lumen Fidei, an "experienced-based" view of faith. (See Incompetent To Teach Squat About The Catholic Faith, part one, Incompetent To Teach Squat About The Catholic Faith, part two, Incompetent To Teach Squat About The Catholic Faith, part three.)
Here are some excerpts from what should have been called Oprah Bergoglio's view of religious faith:
Because faith is a way, it also has to do with the lives of those men and women who, though not believers, nonetheless desire to believe and continue to seek. To the extent that they are sincerely open to love and set out with whatever light they can find, they are already, even without knowing it, on the path leading to faith. They strive to act as if God existed, at times because they realize how important he is for finding a sure compass for our life in common or because they experience a desire for light amid darkness, but also because in perceiving life's grandeur and beauty they intuit that the presence of God would make it all the more beautiful. Saint Irenaeus of Lyons tells how Abraham, before hearing God's voice, had already sought him "in the ardent desire of his heart" and "went throughout the whole world, asking himself where God was to be found", until "God had pity on him who, all alone, had sought him in silence". Anyone who sets off on the path of doing good to others is already drawing near to God, is already sustained by his help, for it is characteristic of the divine light to brighten our eyes whenever we walk towards the fullness of love. (Jorge Mario Bergoglio/Francis, Lumen Fidei, July 5, 2013.)
Saint Irenaeus does not look favorably upon how he is being brought forth as a yet another in the long line of witnesses used by the conciliar revolutionaries to distort their teaching so as to make them, in effect, perjured witnesses in behalf of conciliarism.
37. But it is not solely by objective arguments that the non-believer may be disposed to faith. There are also those that are subjective, and for this purpose the modernist apologists return to the doctrine of immanence. They endeavor, in fact, to persuade their non-believer that down in the very depths of his nature and his life lie hidden the need and the desire for some religion, and this not a religion of any kind, but the specific religion known as Catholicism, which, they say, is absolutely postulated by the perfect development of life. And here again We have grave reason to complain that there are Catholics who, while rejecting immanence as a doctrine, employ it as a method of apologetics, and who do this so imprudently that they seem to admit, not merely a capacity and a suitability for the supernatural, such as has at all times been emphasized, within due limits, by Catholic apologists, but that there is in human nature a true and rigorous need for the supernatural order. Truth to tell, it is only the moderate Modernists who make this appeal to an exigency for the Catholic religion. As for the others, who might he called integralists, they would show to the non-believer, as hidden in his being, the very germ which Christ Himself had in His consciousness, and which He transmitted to mankind. Such, Venerable Brethren, is a summary description of the apologetic method of the Modernists, in perfect harmony with their doctrines –– methods and doctrines replete with errors, made not for edification but for destruction, not for the making of Catholics but for the seduction of those who are Catholics into heresy; and tending to the utter subversion of all religion. (Pope Saint Pius X, Pascendi Dominci Gregis, September 8, 1907.)
Thus stands condemned one of the principle cornerstones of the conciliar revolutionaries to justify their kind words and messages of "feast day" greetings to non-Catholics as "believers" even though they do not believe that all that Our Blessed Lord and Saviour Jesus Christ taught in the Sacred Deposit of Faith as He has entrusted It to the eternal safekeeping and infallible explication of His Catholic Church and/or reject His Sacred Divinity or even the existence of God altogether.
Thus stands condemned the very cornerstone of Lumen Fidei and everything it embodies: the new ecclesiology, false ecumenism, "inter-religious "dialogue" and "prayer services," "religious liberty" and the late Father Karl Rahner's "Anonymous Christian."
All right, you want more excerpts from Lumen Fidei?
Well, you are certainly gluttons for punishment. I will give you two more:
35. The light of faith in Jesus also illumines the path of all those who seek God, and makes a specifically Christian contribution to dialogue with the followers of the different religions. The Letter to the Hebrews speaks of the witness of those just ones who, before the covenant with Abraham, already sought God in faith. Of Enoch "it was attested that he had pleased God" (Heb 11:5), something impossible apart from faith, for "whoever would approach God must believe that he exists and that he rewards those who seek him" (Heb 11:6). We can see from this that the path of religious man passes through the acknowledgment of a God who cares for us and is not impossible to find. What other reward can God give to those who seek him, if not to let himself be found? Even earlier, we encounter Abel, whose faith was praised and whose gifts, his offering of the firstlings of his flock (cf. Heb 11:4), were therefore pleasing to God. Religious man strives to see signs of God in the daily experiences of life, in the cycle of the seasons, in the fruitfulness of the earth and in the movement of the cosmos. God is light and he can be found also by those who seek him with a sincere heart. (Jorge Mario Bergoglio/Francis, Lumen Fidei, July 5, 2013.)
It is the false belief that "followers of the different religions" are seeking after God with a "sincere heart" that have led the likes of the conciliar "popes" and their "bishops" to trip all over themselves in expressions of wondrous admiration of one false religion after another, thus committing what are Mortal Sins in the objective order of things against the First and Second Commandments.
Bergoglio also managed to use Lumen Fidei as a means to distort, misrepresent and deconstruct the very meaning of the Sacrament of Baptism:
In baptism we receive both a teaching to be professed and a specific way of life which demands the engagement of the whole person and sets us on the path to goodness. Those who are baptized are set in a new context, entrusted to a new environment, a new and shared way of acting, in the Church. Baptism makes us see, then, that faith is not the achievement of isolated individuals; it is not an act which someone can perform on his own, but rather something which must be received by entering into the ecclesial communion which transmits God's gift. No one baptizes himself, just as no one comes into the world by himself. Baptism is something we receive.

42. What are the elements of baptism which introduce us into this new "standard of teaching"? First, the name of the Trinity — the Father, the Son and the Holy Spirit — is invoked upon the catechumen. Thus, from the outset, a synthesis of the journey of faith is provided. The God who called Abraham and wished to be called his God, the God who revealed his name to Moses, the God who, in giving us his Son, revealed fully the mystery of his Name, now bestows upon the baptized a new filial identity. This is clearly seen in the act of baptism itself: immersion in water. Water is at once a symbol of death, inviting us to pass through self-conversion to a new and greater identity, and a symbol of life, of a womb in which we are reborn by following Christ in his new life. In this way, through immersion in water, baptism speaks to us of the incarnational structure of faith. Christ's work penetrates the depths of our being and transforms us radically, making us adopted children of God and sharers in the divine nature. It thus modifies all our relationships, our place in this world and in the universe, and opens them to God's own life of communion. This change which takes place in baptism helps us to appreciate the singular importance of the catechumenate — whereby growing numbers of adults, even in societies with ancient Christian roots, now approach the sacrament of baptism — for the new evangelization. It is the road of preparation for baptism, for the transformation of our whole life in Christ. (Jorge Mario Bergoglio/Francis, Lumen Fidei, July 5, 2013.)
Path to goodness?
What about to know, to love and serve God in this life in order to be with Him for all eternity in Heaven in the next?
The "new evangelization"?
The new evangelization is a tool of conciliarism to propagate the "new ecclesiology," false ecumenism, "the hermeneutic of "continuity" (aka "living tradition), religious liberty, separation of Church and State and universal salvation.
Lumen Fidei, much of which was drafted by none other than Joseph Ratzinger/Benedict XVI before his resignation as the universal public face of apostasy became effective at 8:00 p.m., Rome time, on Thursday, February 28, 2013, thus succeeded in transforming the Sacrament of Baptism into an instrument for the propagation of their own false religion, conciliarism, which rejects the belief that good works performed after Justification are necessary for salvation:
19. On the basis of this sharing in Jesus' way of seeing things, Saint Paul has left us a description of the life of faith. In accepting the gift of faith, believers become a new creation; they receive a new being; as God's children, they are now "sons in the Son". The phrase "Abba, Father", so characteristic of Jesus' own experience, now becomes the core of the Christian experience (cf. Rom 8:15). The life of faith, as a filial existence, is the acknowledgment of a primordial and radical gift which upholds our lives. We see this clearly in Saint Paul's question to the Corinthians: "What have you that you did not receive?" (1 Cor 4:7). This was at the very heart of Paul's debate with the Pharisees: the issue of whether salvation is attained by faith or by the works of the law. Paul rejects the attitude of those who would consider themselves justified before God on the basis of their own works. Such people, even when they obey the commandments and do good works, are centred on themselves; they fail to realize that goodness comes from God. Those who live this way, who want to be the source of their own righteousness, find that the latter is soon depleted and that they are unable even to keep the law. They become closed in on themselves and isolated from the Lord and from others; their lives become futile and their works barren, like a tree far from water. Saint Augustine tells us in his usual concise and striking way: "Ab eo qui fecit te, noli deficere nec ad te", "Do not turn away from the one who made you, even to turn towards yourself". Once I think that by turning away from God I will find myself, my life begins to fall apart (cf. Lk 15:11-24). The beginning of salvation is openness to something prior to ourselves, to a primordial gift that affirms life and sustains it in being. Only by being open to and acknowledging this gift can we be transformed, experience salvation and bear good fruit. Salvation by faith means recognizing the primacy of God's gift. As Saint Paul puts it: "By grace you have been saved through faith, and this is not your own doing; it is the gift of God" (Eph 2:8). (Jorge Mario Bergoglio/Francis, Lumen Fidei, July 5, 2013.)
As he is done in his Casa Santa Marta daily Ding Dong School Of Apostasy sessions, Jorge Mario Bergoglio is once again positing the old conciliar canard that those concerned about the salvation of their own souls are "individualists" who do not want to be part of the "community," people who are "closed in on themselves and isolated from the Lord and others," going so far as to say that "lives become futile and their works barren, like a tree far from water."
The truth is, of course, that good works performed after Justification, that is after Baptism and while a soul is in a state of Sanctifying Grace, are necessary for salvation and that they do indeed result an an increase of merit before God, something that is rejected, at least implicitly, by the conciliar revolutionaries in documents such as Lumen Fidei, whose passage quoted just above essentially braces the Lutheran "salvation by faith alone" heresy.
The Council of Trent taught the following about those who denigrate good works after Justification are necessary for salvation and meritorious before God:
CANON XXIV.-If any one saith, that the justice received is not preserved and also increased before God through good works; but that the said works are merely the fruits and signs of Justification obtained, but not a cause of the increase thereof; let him be anathema.

CANON XXVI.-If any one saith, that the just ought not, for their good works done in God, to expect and hope for an eternal recompense from God, through His mercy and the merit of Jesus Christ, if so be that they persevere to the end in well-doing and in keeping the divine commandments; let him be anathema.

CANON XXXII.-If any one saith, that the good works of one that is justified are in such manner the gifts of God, as that they are not also the good merits of him that is justified; or, that the said justified, by the good works which he performs through the grace of God and the merit of Jesus Christ, whose living member he is, does not truly merit increase of grace, eternal life, and the attainment of that eternal life,-if so be, however, that he depart in grace,-and also an increase of glory; let him be anathema. (The Council of Trent: The Sixth Session. For a detailed examination of the heretical conciliar view of Justification, please see Bishop Donald J. Sanborn's analysis of the Conciliar-Lutheran Joint Declaration on Justification.)
As horrible as Lumen Fidei was, however, it was merely the "warm-up" pitch for Evangelii Gaudium four and one-half months later.
July 8, 2013: Putting Lumen Fidei into Action at Lampedusa. It was during a "homily" during a "penitential service" at a sports camp at Lampedusa following the drowning of Africans seeking to enter European countries illegally, Jorge Mario Bergoglio specifically praised Mohammedanism as he trusted that the then upcoming "feast" of Ramadan bear "abundant spiritual fruit:"
I also think with affection of those Muslim immigrants who this evening begin the fast of Ramadan, which I trust will bear abundant spiritual fruit. The Church is at your side as you seek a more dignified life for yourselves and your families. To all of you: o'scià! (8 July 2013: Visit to Lampedusa – Hideous, Abominable Liturgical Service in the "Arena" sports camp.)
It is impossible for the "feasts" of false religions to bear anything other than rotten fruit. There will be more of this when Bergoglio goes to Amman, Jordan, next month. Much more.
Yes, you see, the devil lacks creativity. He is simply repackaging the same old Modernist methodologies in the person of the "friendly," "ever-humble," "simple" and "devout Jorge Mario Bergoglio/Francis.
Yes, Jorge Mario Bergoglio/Francis believes that those who seek God "with a sincere heart" and he see signs of Him "in the cycle of the seasons, in the fruitfulness of the earth and in the movement of the cosmos" actually have a true relationship with God that can benefit them spiritually. The phrase that describes this false belief is "universal salvation."
No Catholic sends "greetings" to adherents of false religions on their holy days as each false religion is a servant of the devil himself.
Saint Alphonsus de Ligouri explained how Saint Blase referred to the gods of the false religion of the Roman pagans shortly before his own martyrdom on February 3, 313:
When St. Blase arrived at the city [of Ragusa] and was presented to the governor, he was commanded to sacrifice to immortal gods. The saint answered: "What a title for your demons, who can only bring evil on their worshippers! There is only ONE Immortal God, and him do I adore." Agricolaus, infuriated at the answer, caused the saint to undergo a scourging so prolonged and cruel that it was thought the saint could not possibly survive it; but having endured this torture with placid courage, he was sent to prison, where he continued to work miracles so extraordinary that the governor ordered him to be lacerated with iron hooks.

The blood of the saint ran profusely, and certain pious women were induced to collect portions of it, which act of devotion was amply rewarded, for they were seized, with two of their children, and brought before the governor. He commanded them to sacrifice to the gods under pain of death. The holy women asked for their idols, as some thought, to sacrifice to them, but they no sooner had hands upon them than they cast them into an adjoining lake, for which they were instantly beheaded, along with their children.

Agricolaus resolved to wreak his vengeance on St. Blase; and to content with the torture which he had already ceased him to endure, commanded him to be stretched upon the rack, and his flesh to be torn with iron combs, in which state a red-hot coal of mail was placed upon him. Finally, the tyrant, despairing of overcoming his constancy, ordered him to be cast into the lake; the saint, arming himself with the sign of the cross, walked upon the waters, and arriving at the middle, sat down, and invite the idolaters to do the same if they believed that their gods could enable them. Some were so rash as to make the attempt, but were immediately drowned.

St. Blase was admonished then by a voice from heaven to go forth from the lake and encounter his martyrdom. When he reached the land the impious tyrant ordered him to be beheaded. This sentence was executed in the year 313. The republic of Ragusa honor him as their principal patron, and he is the titular saint of many cities. (Saint Alphonsus de Ligouri, The Glories of The Martyrs, as published by the Redemptorist Fathers, Esopus, New York, 1954, pp. 253-254.)
Jorge Mario Bergoglio/Francis is just the latest in the line of the counterfeit church of conciliarism's "Petrine Ministers" whose very words and actions are the opposite of that of the martyrs and, of course, in direct contradiction to the binding precepts of the Sacred Deposit of Faith and to the pronouncements made under the infallible guidance of God the Holy Ghost at Holy Mother Church's twenty true general councils.
July 11, 2013: Jorge Signs the Decree to Start His Persecution of the Franciscan Friars of the Immaculate. Here is a report, written by Vaticanologist Sandro Magister, who just could not believe that Joseph Ratzinger/Benedict XVI's Summorum Pontificum, July 7, 2007, which was a trap in and of itself, had been "broken" by "Pope Francis":
And there were instead those who prognosticated on the part of Francis a restriction – or even a cancellation – of the possibility of celebrating the Mass with the rite prior to Vatican Council II, even at the cost of contradicting the decisions of Benedict XVI with him still alive.

To read the decree issued by the Vatican congregation for religious shortly before the voyage of Francis in Brazil, with the explicit approval of the pope himself, one must agree more with the latter than with the former.

The decree bears the date of July 11, 2013, the protocol number 52741/2012, and the signatures of the prefect of the congregation, Cardinal Joao Braz de Aviz, a focolarino,  and of the secretary of the same congregation, Archbishop José Rodríguez Carballo, a Franciscan.

Braz de Aviz is the only high-ranking official in the curia of Brazilian nationality, and because of this he has accompanied Francis on his voyage to Rio de Janeiro. He has a reputation as a progressive, although that of a scatterbrain fits him better. And he will probably be one of the first to go when the reform of the curia announced by Francis takes shape.

Rodríguez Carballo instead enjoys the pope's complete trust. His promotion as second-in-command of the congregation was backed by Francis himself at the beginning of his pontificate.

It is difficult, therefore, to think that pope Bergoglio was unaware of what he was approving when he was presented with the decree before its publication.

The decree installs an apostolic commissioner – in the person of the Capuchin Fidenzio Volpi – at the head of all the communities of the congregation of the Franciscan Friars of the Immaculate.

And this in itself is cause for astonishment. Because the Franciscans of the Immaculate are one of the most flourishing religious communities born in the Catholic Church in recent decades, with male and female branches, with many young vocations, spread over several continents and with a mission in Argentina as well.

They want to be faithful to tradition, in full respect for the magisterium of the Church. So much so that in their communities they celebrate Masses both in the ancient rite and in the modern rite, as moreover do hundreds of religious communities around the world – the Benedictines of Norcia, to give just one example – applying the spirit and the letter of the motu proprio "Summorum Pontificum" of Benedict XVI.

But precisely this was contested by a core group of internal dissidents, who appealed to the Vatican authorities complaining of the excessive propensity of their congregation to celebrate the Mass in the ancient rite, with the effect of creating exclusion and opposition within the communities, of undermining internal unity and, worse, of weakening the more general "sentire cum Ecclesia."

The Vatican authorities responded by sending an apostolic visitor one year ago. And now comes the appointment of the commissioner.

But what is most astonishing are the last five lines of the decree of July 11:

"In addition to the above, the Holy Father Francis has directed that every religious of the congregation of the Franciscan Friars of the Immaculate is required to celebrate the liturgy according to the ordinary rite and that, if the occasion should arise, the use of the extraordinary form (Vetus Ordo) must be explicitly authorized by the competent authorities, for every religious and/or community that makes the request."

The astonishment stems from the fact that what is decreed contradicts the dispositions given by Benedict XVI, which for the celebration of the Mass in the ancient rite "sine populo" demand no previous request for authorization whatsoever:

"Ad talem celebrationem secundum unum alterumve Missale, sacerdos nulla eget licentia, nec Sedis Apostolicae nec Ordinarii sui" (1).

While for Masses "cum populo" they set out a few conditions, but always guaranteeing the freedom to celebrate.

In general, against a decree of a Vatican congregation it is possible to have recourse to the supreme tribunal of the apostolic signatura, today headed by a cardinal, the American Raymond Leo Burke, considered a friend by the traditionalists.

But if the decree is the object of approval in a specific form on the part of the pope, as it seems to be in this case, recourse is not admitted.

The Franciscans of the Immaculate will have to comply with the prohibition on celebrating the Mass in the ancient rite beginning Sunday, August 11.

And now what will happen, not only among them but in the whole Church?

It was the conviction of Benedict XVI that "the two forms of the usage of the Roman Rite can be mutually enriching." He had explained this in the heartfelt letter to the bishops of the whole world with which he had accompanied the motu proprio "Summorum Pontificum":

> "With great trust and hope…"

But from now on this is no longer the case, at least not for all. For the Franciscans of the Immaculate, forced to celebrate the Mass only in the modern form, there remains just one way to take to heart what Benedict XVI also hoped: to "demonstrate" in this form as well, "more powerfully than has been the case hitherto, the sacrality which attracts many people to the former usage."

The fact is that one pillar of the pontificate of Joseph Ratzinger has been cracked. By an exception that many fear – or hope – will soon become the rule.  (Sandro Magister, For the First Time, Francis Contradicts Benedict.)
Poor Signore Magister still does not realize that there is nothing stable, nothing secure for Modernists, not even in the structures and decrees of their own false church. He also does not realize that Joseph Alois Ratzinger/Benedict XVI issued Summorum Pontificum merely to "pacify spirits" and to break-down obstinacy and narrow-mindedness as a means to lead traditionally-minded Catholics into an acceptance of a "unified" "reform of the reform" at some point in the future.
In actuality, therefore, Pharaoh Joseph and Pharaoh Francis have identical views about traditionally-minded Catholics, differing, of course, on how to deal with them. Pharaoh Joseph wanted to "pacify" them in order to "convert" them. Pharaoh Francis wants to the lower the boom on them. Follow-up stories on this site have included: Francis: The Latest In A Long Line Of Ecclesiastical Tyrants, Tyrants Who Speak About "Freedom" and A New King Has Come To Power.
July 14, 2013: Mercy, Not Condemnation. Proving himself to be the penultimate hypocrite, Jorge Mario Bergoglio, spending one day at Castel Gandolfo to mingle with the people who are used to seeing popes spend their summers at the papal retreat, denounced those who condemn rather than show "mercy:"
CASTEL GANDOLFO, Italy (CNS) — God wants people to be generous and merciful, not full of condemnation toward others, Pope Francis said.

God is well aware of "our miseries, our difficulties, even our sins, and he gives all of us this merciful heart," capable of being loving and merciful toward others, he told pilgrims gathered outside the papal summer villa.

"God always wants this: mercy, and not (people) going around condemning everyone," he said July 14 before praying the Angelus. (Be generous givers of mercy, not condemnation, disapproval, Francis the Silent says.)
Behold the hypocrite as it is Jorge Mario Bergoglio who goes around condemning those who hold to the integrity of the Catholic Faith and who desire to worship Him in the very Sacred Liturgy that Our Lord taught the Apostles to offer between the time of His Resurrection on Easter Sunday and his Ascension to His Co-Equal and Co-Eternal God the Father forty days thereafter on Ascension Thursday, something that was proved at the beginning of this commentary.
July 21-28: World Youth Day. The pagan hootenanny that is billed as "World Youth Day" took place in Rio di Janiero from Monday, July 21, 2013, to Sunday, July 28, 2013. It was one of the worst travesties ever produced by the counterfeit church of conciliarism. Indeed, it was the subject of the following articles on the original Christ or Chaos website that serves now, of course, as an archive site: Francis The Anti-Apostle, Francis The Syncretist, Francis The Sillonist, Francis The Apostate: From Revolution To Anarchy, Francis The Pied Piper of Antichrist, Francis Says ¡Viva la Revolución!, part one, Francis Says ¡Viva la Revolución!, part two, Francis Says ¡Viva la Revolución!, part three).
God will not be mocked, however, as the gigantic stage, which resembled the Superman "Fortress of Solitude," meant to be used for the so-called "youth vigil" on Saturday, July 27, 2013, and the final production of the Protestant and Judeo-Masonic Novus Ordo liturgical service on Sunday, July 28, 2013, became unusable after rains flooded the area around it and winds left the monstrosity in tatters. Here are before and after photographs: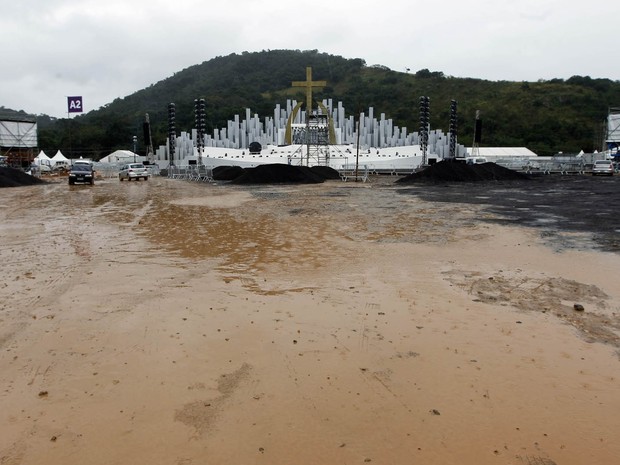 Superman's Altar Is Not In Good Shape in Rio di Janeiro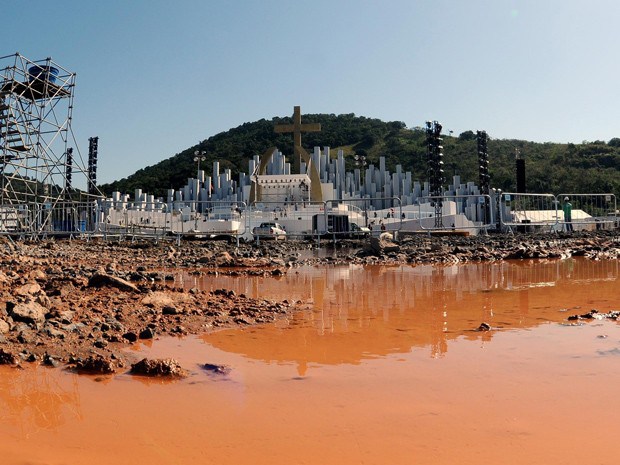 God's Just Chastisement Visited Upon the Madness of World Youth Day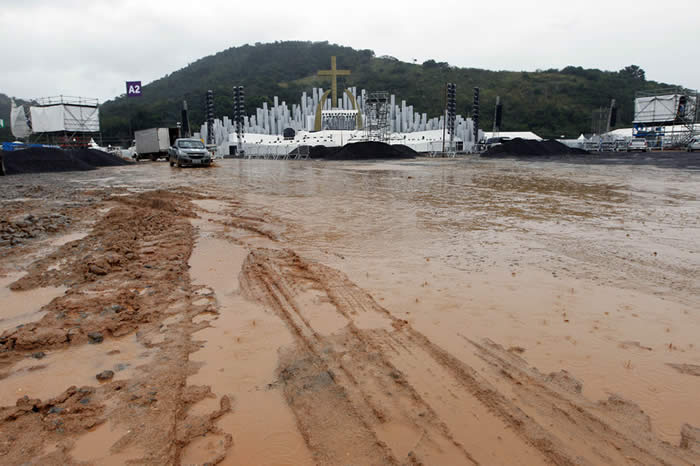 Behold the Desolation of Just One of Many Altars of Abomination
(Photographs found on the Veritas Liberavit Vos website)
Such devastation was highly symbolic of the words and deeds of Jorge Mario Bergoglio and his brother non-bishops who were gathered in Rio di Janiero during the last full week in July of last year. One of the most memorable scenes included a bunch of conciliar "bishops" learning how to dance for a "flash mob" performance" in response to prompts given them by a choreographer: June Taylor Dancers Practice for Flash Mob Performance.
Other memorable scenes included attendees diving into the South Atlantic Ocean after the reception of what purported to be Holy Communion during the closing "liturgy" on Sunday, July 28, 2013. Immodesty, indecency, vulgarity, profanity and sacrilege proliferated during those seven days in late-July of last year. So did heresy,
Here are a few examples of Jorge Mario Bergoglio's offenses against Christ the King in Rio di Janiero, staring with yet another invocation of "God's surprises" while staging a liturgy at the Shrine of Our Lady of the Conception in Aparecida, Brazil, on Wednesday, July 24, 2013:
2. The second attitude: openness to being surprised by God. Anyone who is a man or a woman of hope – the great hope which faith gives us – knows that even in the midst of difficulties God acts and he surprises us. The history of this Shrine is a good example: three fishermen, after a day of catching no fish, found something unexpected in the waters of the Parnaíba River: an image of Our Lady of the Immaculate Conception. Whoever would have thought that the site of a fruitless fishing expedition would become the place where all Brazilians can feel that they are children of one Mother? God always surprises us, like the new wine in the Gospel we have just heard. God always saves the best for us. But he asks us to let ourselves be surprised by his love, to accept his surprises. Let us trust God! Cut off from him, the wine of joy, the wine of hope, runs out. If we draw near to him, if we stay with him, what seems to be cold water, difficulty, sin, is changed into the new wine of friendship with him. (Liturgical Travesty in the Shrine of Our Lady of the Conception, Wednesday, July 24, 2013.)
Bergoglio was trying to place the discovery by Brazilian fishermen in October of 1717, two hundred years before the Miracle of the Sun in the Cova da Iria near Fatima, Portugal, by the way, of the statue of Our Lady of Aparecida with "surprises" that he believes that  God has "sprung" on the Catholic Church in the past fifty-five years. This was and remains beneath contempt as it blasphemously dishonors Our Lady, whose statue is housed in a den of utter iniquity and paganism.
It was later that same day, Wednesday, July 24, 2013, that Bergoglio gave a talk redolent with Judeo-Masonic naturalism at a hospital for the mentally ill and those suffering from addiction to various substances:
To embrace someone is not enough, however. We must hold the hand of the one in need, of the one who has fallen into the darkness of dependency perhaps without even knowing how, and we must say to him or her: You can get up, you can stand up. It is difficult, but it is possible if you want to. Dear friends, I wish to say to each of you, but especially to all those others who have not had the courage to embark on our journey: You have to want to stand up; this is the indispensable condition! You will find an outstretched hand ready to help you, but no one is able to stand up in your place. But you are never alone! The Church and so many people are close to you. Look ahead with confidence. Yours is a long and difficult journey, but look ahead, there is "a sure future, set against a different horizon with regard to the illusory enticements of the idols of this world, yet granting new momentum and strength to our daily lives" (Lumen Fidei, 57). To all of you, I repeat: Do not let yourselves be robbed of hope! And not only that, but I say to us all: let us not rob others of hope, let us become bearers of hope! (Defeating the darkness of drug dependency.)
Those who are addicted to various substances and/or are suffering from mental illnesses of one sort or another need not only an outstretched hand from others in the pattern of the Good Samaritan. No, they need Sanctifying Grace as they rely upon Our Lady's Most Holy Rosary. It is precisely the lack of Sanctifying Grace in the world and the lack of "papal" exhortations to pray the Rosary, which was destroyed by one ostensibly devoted to it, Karol Wojtyla/John Paul II, that leads more and more people into lives of hopeless addiction or despair as without the graces won for us by Our Blessed Lord and Saviour Jesus Christ by the shedding of every single drop of His Most Precious Blood on the wood of the Holy Cross that flow into our souls through the loving hands of Our Lady, she who is the Mediatrix of All Graces, we can do nothing but fall into the very hopelessness that Bergoglio/Francis says he wants to cure. Impossible.
Revolutionaries thrive on chaos. Indeed, they desire to create chaos and confusion in order to pose as the champions of the "downtrodden" multitudes. Jorge Mario Bergoglio desires to overturn any and all of the last remaining bastions of recognizable Catholicism in the counterfeit church of conciliarism.
This is what Bergoglio said to a group of young, duped Argentine Catholics on Friday, July 26, 2013:
Let me tell you what I hope will be the outcome of World Youth Day: I hope there will be noise.  Here there will be noise, I'm quite sure.  Here in Rio there will be plenty of noise, no doubt about that.  But I want you to make yourselves heard in your dioceses, I want the noise to go out, I want the Church to go out onto the streets, I want us to resist everything worldly, everything static, everything comfortable, everything to do with clericalism, everything that might make us closed in on ourselves.  The parishes, the schools, the institutions are made for going out … if they don't, they become an NGO, and the Church cannot be an NGO.  May the bishops and priests forgive me if some of you create a bit of confusion afterwards.  That's my advice.  Thanks for whatever you can do.

Look, at this moment, I think our world civilization has gone beyond its limits, it has gone beyond its limits because it has made money into such a god that we are now faced with a philosophy and a practice which exclude the two ends of life that are most full of promise for peoples.  They exclude the elderly, obviously.  You could easily think there is a kind of hidden euthanasia, that is, we don't take care of the elderly; but there is also a cultural euthanasia, because we don't allow them to speak, we don't allow them to act.  And there is the exclusion of the young.  The percentage of our young people without work, without employment, is very high and we have  a generation with no experience of the dignity gained through work.  This civilization, in other words, has led us to exclude the two peaks that make up our future.  As for the young, they must emerge, they must assert themselves, the young must go out to fight for values, to fight for these values; and the elderly must open their mouths, the elderly must open their mouths and teach us!  Pass on to us the wisdom of the peoples! (Meeting with the youth from Argentina gathered in the Cathedral of San Sebastian.)
Fight for values?
What values?
Values?
What about the Catholic Faith?
What about Christ the King?
No, Jorge Mario Bergoglio wants the young to make some "noise" in a supposed effort to serve the elderly and the poor as they reject everything "static, everything comfortable, everything thing to do with clericalism, everything that might make us closed in on ourselves." In other words, Bergoglio believes wants to introduce disorder and chaos, anarchy, if you will, in order to further advance his revolution against the Catholic Faith in the name of "saving" the poor and the elderly and the unwanted. As has been noted many times on this site, Jorge Mario Bergoglio's "faith" is Social Work First, Social Work Last, Social Work Only.
We can see from Jorge Mario Bergoglio/Francis's whole being radiates anti-intellectualism. He hates the Scholasticism of Saint Thomas Aquinas, preferring to wrap himself up in the sanctimonious mantle of a concern for the "poor" that he wants to transmit to the Catholic youth who believe him to be a true and legitimate Successor of Saint Peter by rejecting the "static" and urging them to make "trouble" for the local "bishops" as the means to destroy the last remaining vestiges of Catholicism in the conciliar church. As a true revolutionary, Bergoglio/Francis wants anarchy, disorder, chaos, confusion and dialogue to replace the last bastions hierarchy, order, structure and obedience.
By urging the young Catholics to cause problems and to make some "noise," Bergoglio/Francis is thus demonstrating that he rejects the very simple fact that Holy Mother Church is of her very divine nature a reflection of her Divine Founder and Invisible Head. Hierarchy, permanence, stability and order are just part of the Divine Constitution of the One, Holy, Catholic and Apostolic Church. Bergoglio/Francis believes in antichurch, a counterchurch as he is but figure of Antichrist, replete with a fawning popularity from those who are responding to his "message" of a "church" without doctrines, a church that needs to break out from its "past," a church that just needs to "encounter" others and to "dialogue" with them in fraternal solidarity. He is far, far more dangerous than any of his predecessors in the counterfeit church of conciliarism, including Karol Wojtyla/John Paul II.
We can see what Bergoglio's rejection of everything "static" has produced in the past fifty-five years. It, and nothing else, has caused the emptying of the pews in formerly Catholic churches that this heretical blasphemer blamed on the "rigidity" of existing church "structures" when addressing the Brazilian "bishops" on, Saturday, July 26, 2013, even managing to take an not-so-subtle swipe at the "intellectualism" of his predecessor, His Apostateness, Joseph Ratzinger/Benedict XVI:
Dear brothers, the results of our pastoral work do not depend on a wealth of resources, but on the creativity of love. To be sure, perseverance, effort, hard work, planning and organization all have their place, but first and foremost we need to realize that the Church's power does not reside in herself; it is hidden in the deep waters of God, into which she is called to cast her nets.

Another lesson which the Church must constantly recall is that she cannot leave simplicity behind; otherwise she forgets how to speak the language of Mystery. Not only does she herself remain outside the door of the mystery, but she proves incapable of approaching those who look to the Church for something which they themselves cannot provide, namely, God himself. At times we lose people because they don't understand what we are saying, because we have forgotten the language of simplicity and import an intellectualism foreign to our people. Without the grammar of simplicity, the Church loses the very conditions which make it possible "to fish" for God in the deep waters of his Mystery. (Are we still a Church capable of warming hearts?)
Bergoglio has made it very clear during his false "pontificate" that he believes that adherence to doctrine somehow interferes with being "charitable" to the poor, a contention that makes him the poorest of creatures as, to quote Pope Saint Pius X, there is authentic charity that is not Catholic Charity, which starts with performing the Spiritual Works of Mercy for all men. When was the last time anyone heard Jorge Mario Bergoglio speak of instructing the ignorant and admonishing the sinner?
Bergoglio gave yet another Judeo-Masonic talk was given on Saturday,July 27, 2013, to conciliar clergy, religious and seminarians in which he stressed yet again the madness of "encounter" and "solidarity:"
3. Called to promote the culture of encounter – Unfortunately, in many places, generally in this economic humanism that prevails in the world, the culture of exclusion, of rejection, is spreading. There is no place for the elderly or for the unwanted child; there is no time for that poor person on the edge of the street. At times, it seems that for some people, human relations are regulated by two modern "dogmas": efficiency and pragmatism. Dear Bishops, priests, religious and you, seminarians who are preparing for ministry: have the courage to go against the tide. Let us not reject this gift of God which is the one family of his children. Encountering and welcoming everyone, solidarity… this is a word that in this culture is being hidden away, as if it was a swear word… solidarity and fraternity: these are what make our society truly human.

Be servants of communion and of the culture of encounter! Permit me to say that we must be almost obsessive in this matter. We do not want to be presumptuous, imposing "our truths". What must guide us is the humble yet joyful certainty of those who have been found, touched and transformed by the Truth who is Christ, ever to be proclaimed (cf. Lk 24:13-35). (Petrine Minister to clergy, religious, seminarians: respond to God's call in 3 ways.)
Yes, indeed. Jorge Mario Bergoglio is an insidious little pest, placing concern for the unwanted child (the man has yet to use the word abortion) and the "poor on the street" in the context of the very ethos of the French and Bolshevik Revolutions: solidarity and fraternity.
Although longtime readers of this site are probably sick and tired of seeing the following quotes yet again, they are necessary to include to show how far this insidious little pest and serial offender against the greater honor and glory and majesty of the Most Blessed Trinity is far the mind of the Divine Redeemer as He has discharged It exclusively to the Catholic Church in His Sacred Deposit of Faith:
Everyone should avoid familiarity or friendship with anyone suspected of belonging to masonry or to affiliated groups. Know them by their fruits and avoid them. Every familiarity should be avoided, not only with those impious libertines who openly promote the character of the sect, but also with those who hide under the mask of universal tolerance, respect for all religions, and the craving to reconcile the maxims of the Gospel with those of the revolution. These men seek to reconcile Christ and Belial, the Church of God and the state without God. (Pope Leo XIII, Custodi di Quella Fede, December 8, 1892.)

And now, overwhelmed with the deepest sadness, We ask Ourselves, Venerable Brethren, what has become of the Catholicism of the Sillon? Alas! this organization which formerly afforded such promising expectations, this limpid and impetuous stream, has been harnessed in its course by the modern enemies of the Church, and is now no more than a miserable affluent of the great movement of apostasy being organized in every country for the establishment of a One-World Church which shall have neither dogmas, nor hierarchy, neither discipline for the mind, nor curb for the passions, and which, under the pretext of freedom and human dignity, would bring back to the world (if such a Church could overcome) the reign of legalized cunning and force, and the oppression of the weak, and of all those who toil and suffer.

We know only too well the dark workshops in which are elaborated these mischievous doctrines which ought not to seduce clear-thinking minds. The leaders of the Sillon have not been able to guard against these doctrines. The exaltation of their sentiments, the undiscriminating good-will of their hearts, their philosophical mysticism, mixed with a measure of illuminism, have carried them away towards another Gospel which they thought was the true Gospel of Our Savior. To such an extent that they speak of Our Lord Jesus Christ with a familiarity supremely disrespectful, and that – their ideal being akin to that of the Revolution – they fear not to draw between the Gospel and the Revolution blasphemous comparisons for which the excuse cannot be made that they are due to some confused and over-hasty composition. (Pope Saint Pius X, Notre Charge Apostolique, August 15, 1910.)
Bergoglio continued his theme of "encouter," "dialogue" and "solidarity" in yet another Judeo-Masonic talk on Saturday, July 27, 2013, as he addressed civil and "religious" leaders of Brazil, including the pro-abortion President of Brazil, Dilma Rousseff:
To fill out this reflection, in addition to an integral humanism which respects cultural distinctiveness and fraternal responsibility, I consider essential for facing the present moment: constructive dialogue. Between selfish indifference and violent protest there is always another possible option: that of dialogue. Dialogue between generations, dialogue with the people, because we are all people, the capacity to give and receive, while remaining open to the truth. A country grows when constructive dialogue occurs between its many rich cultural components: popular culture, university culture, youth culture, art, technology, economic culture, family culture and media culture, when they are in dialogue with each other. It is impossible to imagine a future for society without a significant contribution of moral energies within a democratic order which will always be tempted to remain caught up in the interplay of vested interests. A basic contribution in this regard is made by the great religious traditions, which play a fruitful role as a leaven of society and a life-giving force for democracy. Peaceful coexistence between different religions is favoured by the laicity of the state, which, without appropriating any one confessional stance, respects and esteems the presence of the religious dimension in society, while fostering its more concrete expressions.

When leaders in various fields ask me for advice, my response is always the same: dialogue, dialogue, dialogue. It is the only way for individuals, families and societies to grow, the only way for the life of peoples to progress, along with the culture of encounter, a culture in which all have something good to give and all can receive something good in return. Others always have something to give me, if we know how to approach them in a spirit of openness and without prejudice. I call this attitude of openness and availability without prejudice, social humility, and it is this that favours dialogue. Only in this way can understanding grow between cultures and religions, mutual esteem without needless preconceptions, respectful of the rights of everyone. today, either we stand together with the culture of dialogue and encounter, or we all loose, we all loose; from here we can take the right road that makes the journey fruitful and secure. (My advice is always "dialogue, dialogue, dialogue.)
Just see the quotations from Pope Leo XII and Pope Saint Pius X above for a quick antidote to this naturalism, which is founded on a fundamental and categorical rejection of the Social Reign of Christ the King.
Perhaps this review of some of the "highlights" (or "lowlights") of World Youth Day can end with Jorge Mario Bergoglio's address to the leadership of the coordinating committee of the Latin American "bishops" conference on Sunday, July 28, 2013, summarized his rejection of doctrine, which he refers to as an "ideology." He made it very clear that those who view Christianity in "ideological" terms are the enemies of his false church and its call for "pastoral conversion," which means the acceptance of every jot and tittle of the conciliar revolution without any dissent whatsoever.This is what Bergoglio said were "obstacles" to the "pastoral conversion" of what he thinks is the Catholic Church in Latin America:
1. Making the Gospel message an ideology. This is a temptation which has been present in the Church from the beginning: the attempt to interpret the Gospel apart from the Gospel itself and apart from the Church. An example: Aparecida, at one particular moment, felt this temptation. It employed, and rightly so, the method of "see, judge and act" (cf. No. 19). The temptation, though, was to opt for a way of "seeing" which was completely "antiseptic", detached and unengaged, which is impossible. The way we "see" is always affected by the way we direct our gaze. There is no such thing as an "antiseptic" hermeneutics. The question was, rather: How are we going to look at reality in order to see it? Aparecida replied: With the eyes of discipleship. This is the way Nos. 20-32 are to be understood. There are other ways of making the message an ideology, and at present proposals of this sort are appearing in Latin America and the Caribbean. I mention only a few:

a) Sociological reductionism. This is the most readily available means of making the message an ideology. At certain times it has proved extremely influential. It involves an interpretative claim based on a hermeneutics drawn from the social sciences. It extends to the most varied fields, from market liberalism to Marxist categorization.

b) Psychologizing. Here we have to do with an elitist hermeneutics which ultimately reduces the "encounter with Jesus Christ" and its development to a process of growing self-awareness. It is ordinarily to be found in spirituality courses, spiritual retreats, etc. It ends up being an immanent, self-centred approach. It has nothing to do with transcendence and consequently, with missionary spirit.

c) The Gnostic solution. Closely linked to the previous temptation, it is ordinarily found in elite groups offering a higher spirituality, generally disembodied, which ends up in a preoccupation with certain pastoral "quaestiones disputatae". It was the first deviation in the early community and it reappears throughout the Church's history in ever new and revised versions. Generally its adherents are known as "enlightened Catholics" (since they are in fact rooted in the culture of the Enlightenment).

d) The Pelagian solution. This basically appears as a form of restorationism. In dealing with the Church's problems, a purely disciplinary solution is sought, through the restoration of outdated manners and forms which, even on the cultural level, are no longer meaningful. In Latin America it is usually to be found in small groups, in some new religious congregations, in exaggerated tendencies toward doctrinal or disciplinary "safety". Basically it is static, although it is capable of inversion, in a process of regression. It seeks to "recover" the lost past. (Meeting with the Coordinating Committee of CELAM at the Sumaré Study Center (Rio de Janeiro, 28 July 2013)
The "past," Jorge, has not been lost. It has been overthrown by those who trained you. You hate this "past" and are endeavoring to make sure that it never comes back, which is why you make what seems to be daily warfare against it.
Guess what, Jorge?
You will lose when the Triumph of the Immaculate Heart of Mary is made manifest.
Although Jorge Mario Bergoglio's trip to Rio di Janiero ended on Sunday, July 28, 2013, he continued to make news in the air while flying back to Rome. As is well known by now, "Interview Number One" was given on Monday, July 29, 2013. It was in that interview that Jorge made his infamous "Who am I to judge?" remark concerning the proven predatory homosexual behavior of "Monsignor" Battista Ricca, whom he had appointed to head and reform the Institute for Religious Works, known popularly as the Vatican Bank.
Here are some excerpts from Bergoglio's first gab session with reporters, starting with a question about the administration of what purports to be Holy Communion to Catholics in the conciliar structures who are divorced and civilly remarried with even a conciliar decree of nullity:
Guido Vecchi: Holy Father, during this trip you have spoken many times about mercy. In regard to access to the sacraments of divorced persons who have remarried, is there a possibility that something will change in the discipline of the Church? That these sacraments be an occasion to bring these people closer, rather than a barrier that separates them from the other faithful?
Francis: This is a subject that is always asked about.
Mercy is greater than the case you pose.
I believe this is the time of mercy.
This change of era, also so many problems of the Church — such as the witness that's not good of some priests, also problems of corruption in the Church, also the problem of clericalism, to give an example — have left so many wounds, so many wounds.
And the Church is Mother: she must go to heal the wounds with mercy.
But if the Lord does not tire of forgiving, we have no other choice than this: first of all, to cure the wounds. The Church is Mother and must go on this path of mercy. And find mercy for all.
But I think, when the Prodigal Son returned home, his father didn't say: "But you, listen sit down: what did you do with the money?" No! He had a feast! Then, perhaps, when the son wished to speak, he spoke.
The Church must do likewise. When there is someone… not just wait for them: go to find them! This is mercy. And I believe that this is a kairos: this time is akairos of mercy.
But John Paul II had this first intuition, when he began with Faustina Kowalska, the Divine Mercy… he had something, he had intuited that it was a necessity of this time.
With reference to the problem of Communion, it's not a problem, but when they are in a second union, they can't. I think that it's necessary to look at this in the totality of matrimonial ministry. And because of this it's a problem.
But also — a parenthesis — the Orthodox have a different practice. They follow the theology of the economy, as we call it, and give a second possibility, they allow it. But I think this problem — close the parenthesis — must be studied in the framework of matrimonial ministry.
And because of this, two things: first, one of the subjects to be consulted with these eight of the Council of Cardinals, with whom we will meet, the 1st, 2nd and 3rd of October, is how to go forward in matrimonial ministry, and this problem will arise there.
And, a second thing: Fifteen days ago, the secretary of the Synod of Bishops was with me, for the topic of the next Synod. It was an anthropological topic, but speaking and speaking again, going and returning, we saw this anthropological topic: how faith helps the planning of the person, but in the family, and to go, therefore, to matrimonial ministry.
We are on the way for a somewhat profound matrimonial ministry.
And this is everyone's problem, because there are so many, no? For instance, I'll mention only one: Cardinal Quarracino, my predecessor, said that for him half of all marriages are null. Why did he say this? Because they get married without maturity, they marry without remembering that it's for the whole of life, or they marry because socially they must marry.
And the matrimonial ministry also comes into this. And also the judicial problem of the nullity of marriages, this must be reviewed, because the Ecclesiastical Tribunals are not enough for this. The problem of the matrimonial ministry is complex. Thank you. (Press Conference in English.)
The books have been "cooked" on this one. Jorge Mario Bergoglio is going to follow the lead of none other than Joseph Ratzinger/Benedict XVI and Walter Kasper to proclaim that a "merciful pastoral solution" has been found that leaves the immutable doctrine of a ratified and consummated marriage total devoid of any meaning. (See "There's Been This Division.)
Patricia Zorzan: Speaking on behalf of Brazilians. The society has changed, young people have changed, and we see many young people in Brazil. You have spoken to us about abortion, matrimony between persons of the same gender. In Brazil a law has been approved which extends the right of abortion and has allowed matrimony between persons of the same gender. Why didn't you speak about this? [Repeated in Italian]
Francis: The Church has already expressed herself perfectly on this. It wasn't necessary to go back to this, nor did I speak about fraud or lies or other things, on which the Church has a clear doctrine.[Repeated in Italian]
Patricia Zorzan: But it's an issue that interests young people…
[Repeated in Italian]
Francis: Yes, but it wasn't necessary to talk about that, but about positive things that open the way to youngsters, isn't that so? Moreover, young people know perfectly well what the position of the Church is.
[Repeated in Italian]
Patricia Zorzan: What is the position of Your Holiness, can you tell us?
[Repeated in Italian]
Francis: That of the Church. I'm a child of the Church. (Press Conference in English.)
Jorge Mario Bergoglio/Francis would speak as follows about abortion if really was a child of the Catholic Church, which he is not as he expelled himself from her maternal bosom by virtue of holding to one revolutionary Modernist proposition after another:
Those who hold the reins of government should not forget that it is the duty of public authority by appropriate laws and sanctions to defend the lives of the innocent, and this all the more so since those whose lives are endangered and assailed cannot defend themselves. Among whom we must mention in the first place infants hidden in the mother's womb. And if the public magistrates not only do not defend them, but by their laws and ordinances betray them to death at the hands of doctors or of others, let them remember that God is the Judge and Avenger of innocent blood which cried from earth to Heaven. (Pope Pius XI, Casti Connubii, December 31, 1930.)
Jorge Mario Bergoglio/Francis is not son of the Catholic Church as he does not believe that this statement, issued by a true pope, is true. He believes, of course, in the false notion of "mercy" as found in the "Divine Mercy" devotion of Sister Faustina Kowalska. This obviates him from any responsibility of speaking "harshly" about "difficult" matters, whether to the very civil leaders, whose ear he had and to whom he spoke while in Brazil two weeks ago now, who are promotion moral evils or to the young at "World Youth Day 2013" who are supposed to know that which is not taught to them in their local parishes and that might be considered "negative" rather than "positive."
Young Catholics are also supposed to know that it is opposed to the First Commandment to honor false religions, no less to "pray" with leaders of false religious sects or to call for "respect" to be shown to their symbols or their places of false worship.
Young Catholics are also supposed to know about the Virtue of Modesty and what constitutes the near occasion of sins.
Young Catholics are also supposed know that the Holy Sacrifice of the Mass is the unbloody re-presentation or perpetuation of the one Sacrifice that Our Blessed Lord and Saviour Jesus Christ made to His Co-Equal and Co-Eternal God the Father on the wood of the Holy Cross in atonement for our sins and that they are required to be reverent, devout, recollected and silent during its offering.
Anyone familiar with the spectacle of indecency, irreverence, immodesty, sacrilege, blasphemy and heresy that unfolded in Rio de Janeiro two weeks ago knows that the young Catholics who gathered there are as clueless about the Catholic Faith as the "pastors" who sent them there and the "lay pope" who tickled their ears with the sweet sounds of "positive" messages.
The truth is, of course, that hundreds upon hundreds of millions of young Catholics have been corrupted by the rot of explicit classroom indoctrination in matters pertaining to the Sixth and Ninth Commandments from their tenderest years in full violation of Pope Pius XI's explicit prohibition of such indoctrination as found in Divini Redemptoris, December 31, 1929, thus making them more vulnerable to prey upon each other and to be predisposed to accept as ordinary and natural the indecency, immodesty, vulgarity and obscenity found in the world around them, including in so-called "music" and on television, in motion pictures and in their various means of social media.
Most Catholics in the world today know nothing about authentic Catholic teaching because they have never been exposed to what their "pope" calls the "Pharisaical" "views" of "restorationist, and that's just the way their Petrine Minister wants it.
Ilze Scamparini
I would like permission to ask a delicate question: another image that has been going around the world is that of Monsignor Ricca and the news about his private life. I would like to know, Your Holiness, what you intend to do about this? How are you confronting this issue and how does Your Holiness intend to confront the whole question of the gay lobby?
Pope Francis
About Monsignor Ricca: I did what canon law calls for, that is a preliminary investigation. And from this investigation, there was nothing of what had been alleged. We did not find anything of that. This is the response. But I wish to add something else: I see that many times in the Church, over and above this case, but including this case, people search for "sins from youth", for example, and then publish them. They are not crimes, right? Crimes are something different: the abuse of minors is a crime. No, sins. But if a person, whether it be a lay person, a priest or a religious sister, commits a sin and then converts, the Lord forgives, and when the Lord forgives, the Lord forgets and this is very important for our lives. When we confess our sins and we truly say, "I have sinned in this", the Lord forgets, and so we have no right not to forget, because otherwise we would run the risk of the Lord not forgetting our sins. That is a danger. This is important: a theology of sin. Many times I think of Saint Peter. He committed one of the worst sins, that is he denied Christ, and even with this sin they made him Pope. We have to think a great deal about that. But, returning to your question more concretely. In this case, I conducted the preliminary investigation and we didn't find anything. This is the first question. Then, you spoke about the gay lobby. So much is written about the gay lobby. I still haven't found anyone with an identity card in the Vatican with "gay" on it. They say there are some there. I believe that when you are dealing with such a person, you must distinguish between the fact of a person being gay and the fact of someone forming a lobby, because not all lobbies are good. This one is not good. If someone is gay and is searching for the Lord and has good will, then who am I to judge him? The Catechism of the Catholic Church explains this in a beautiful way, saying … wait a moment, how does it say it … it says: "no one should marginalize these people for this, they must be integrated into society". The problem is not having this tendency, no, we must be brothers and sisters to one another, and there is this one and there is that one. The problem is in making a lobby of this tendency: a lobby of misers, a lobby of politicians, a lobby of masons, so many lobbies. For me, this is the greater problem. Thank you so much for asking this question. Many thanks. (Press Conference in English.)
Jorge Mario Bergoglio distorted history in this answer as he was the first to use the term "gay lobby:"
And, yes… it is difficult. In the Curia, there are also holy people, really, there are holy people. But there also is a stream of corruption, there is that as well, it is true… The "gay lobby" is mentioned, and it is true, it is there… We need to see what we can do…

The reform of the Roman Curia is something that almost all Cardinals asked for in the Congregations preceding the Conclave. I also asked for it. I cannot promote the reform myself, these matters of administration… I am very disorganized, I have never been good at this. But the cardinals of the Commission will move it forward. There is Rodríguez Maradiaga, who is Latin American, who is in front of it, there is Errázuriz, they are very organized. The one from Munich is also very organized. They will move it forward.

Pray for me… that I make mistakes the least possible… (Universal Public Face of Apostasy to CLAR, part 2: "Yes, there is a 'gay lobby' in the Curia. We need to see what we can do about it".)
Jorge Mario Bergoglio/Francis himself raised the issue of "gay lobby," saying on July 29, 2013, however, that he's "never seen it on the Vatican ID card."
All right.
Which is it?
Why say in June that there is a "gay lobby" in the Vatican and then say a month later that although there had been "talk about the gay lobby," he's never seen it on "the Vatican ID card."
Ever the revolutionary, Jorge Mario Bergoglio also displayed the language of the homosexual collective, whose members are filled with bitter anger and hatred at anyone who dares to criticize their "lifestyles" as they are, whether or not they realize it, in rebellion against the very nature that God has implanted within them and have thus done what all revolutionaries do to justify themselves before men: to do violence to language in order to cloud supernatural and natural truth with a fog of irrationality and sentimentality.
It is shameful that one conciliar official after another has adopted this language, thereby conceding that one can identify himself on the basis of the inclination to and/or the commission of perverse sins against nature and the Sixth and Ninth Commandments and that civil society and must treat such self-identification as a legitimate basis for social interaction and legal protection under various "civil rights" statutes and ordinances.
Then again, obviously, many conciliar officials, not a few of them afflicted with perversity themselves, have gone of their way created, fostered and promote a culture that has sustained and propagated the entire agenda of homosexual collective, including "marriage" and, quite importantly, persecuting anyone who criticizes sodomy for what it is. There has been the systematic recruitment, retention and promotion of homosexuals through the nooks and crannies of the conciliar structures, including its hierarchy, such as it is, and within parishes, schools, universities, colleges, seminaries, professional schools, religious houses and houses of so-called "spiritual formation." I suggest that those who have any doubt about this fact should consider the massive amount of documented evidence that Mrs. Randy Engel amassed in The Rite of Sodomy.
Thus it is that the counterfeit church of concilairism, reflecting its "openness to the world" and its falsehoods, has bought into the ideology of the homosexual collective by building it into programs that are taught to presbyters, teachers and children, doing so with an special application to "touching" and expressions of "affection" when the problem of clergy abuse that has exploded into full public view in the past twelve years now has been caused by the creation of an entire environment that is friendly to perversity. Jorge Mario Bergoglio/Francis is simply saying, therefore, what he has been conditioned to say by the whole rotten ambiance of conciliarism.
Perhaps the most damaging and most remembered part of Interview Number One was, of course, Bergoglio's "Who am I to judge?" dismissal of the depravity represented even by any kind of perverse inclinations or impulses or feelings speaks volumes as to his complete shallowness as a thinker, no less to the total theological bankruptcy that characterized the words that he uttered to tickle the itching ears of men steeped in the universal pestilence of sentimentality.
While God alone is the sole Judge of the subjective state of souls, He gave us the sensus fidei when we were baptized in order to be able to recognize sin for what it is and thus to amend our own lives when are tempted to sin or find ourselves in the near occasion of sin. This sensus fidei also provides us with the ability to perform the Spiritual Works of Mercy, which includes, of course, admonishing the sinner. It is very telling that, as noted a few days ago, Jorge Mario Bergoglio never talks about the Spiritual Works of Mercy. Never means precisely that, that.
Finally, Bergoglio's dismissal of the facts surrounding Battista Ricca's perverted behavior flies in the face of the evidence that convinced conciliar authorities in the Vatican under Ratzinger/Benedict's watch to remove him from his position at the nunciature in Uruguay:
To Father Lombardi, who defines as 'not trustworthy' what was published regarding Msgr. Ricca, L'Espresso replies reaffirming point by point the facts referred by Sandro Magister in his piece, confirmed by several primary sources and, as a whole, considered at the time of such gravity by the same Vatican authorities that forced them to remove the Monsignor from the Uruguay nunciature, in which he rendered his service, giving scandal to bishops,priests, religious and lay persons in that country.

"It can be added that the Vatican authorities, instead of making up improbable and ad-lib denials, could verify the trustworthiness of all that was published by L'Espresso by simply consulting the exhaustive documentation in their possession on the affair, in particular that related to his time in the Montevideo nunciature. Further documentation is available from the Uruguayan authorities, from security forces to fire brigades. Not to mention the numerous bishops, priests, religious, laymen in Uruguay who were direct witnesses of the scandal and are ready to speak." (On "Gay Lobby", Sandro Magister challenges the Vatican: "We have the evidence".)
Bergoglio has no problem with those who live in lives of unrepentant sins of perversion, and he has no problem with those who promote it. Indeed, he even held the hands of a prominent conciliar presbyter who promotes the agenda of the homosexual collective. The Call Me Jorge website has the tale of the tape on this score:
(Who is Francis holding hands with?)

(Francis & don Luigi Ciotti holding hands.)

Who was Francis holding hands with and why?  The person in question was none other than don Luiggi Ciotti and he is a presbyter who has an interesting past to say the least.  Some readers may be familiar with don Ciotti but for those who are not familiar, a little background.  Don Ciotti is an Italian 'street priest' who founded Gruppo Abele and l'Associazione Libera. He was co-founder of Lega italiana per la lotta contro l'AIDS (LILA) and Coordinamento nazionale delle comunità di accoglienza (CNCA). Don Ciotti was ordained in 1972 by Cardinal Michele Pellegrino, who focused his tenure on implementing the reforms of the 2nd Vatican Council.  What do these organizations don Ciotti help found do? (Compassionate Francis?)
Birds of a feather?
Who am I to judge?
What did Jorge did immediately upon his return to Rome  from Rio di Janiero, Brazil, on Monday, July 29, 2013?
He went the Basilica di Santa Maggiore, where he went to the altar of Our Lady and committed a sacrilege by placing an official "World Youth Day 2013" soccer ball and sports jersey on it: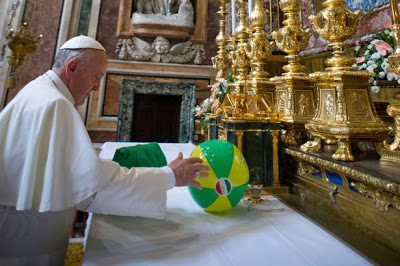 (From Sacrifice to Sacrilege.)
No one who loves God as He has revealed Himself to us through His true Church can remain silent in the face of outrages such as the one shown above or in the face of those that took place throughout the course of last week in Rio de Janeiro.
Alas, what took place in Rio de Janeiro, Brazil, over eight months ago now is just part of the whole ethos of the Protestant and Judeo-Masonic Novus Ordo liturgical service, which can never be "offered" "devoutly" as it is in se a syncretist abomination in the sight of God even if it is staged in Latin. After all, some "high Anglicans" who have not yet shifted their allegiance to the counterfeit church of conciliarism use Latin in their own false liturgy. The Novus Ordo service is just as offensive to God as are all other false liturgies, including that of the Anglicans for whom Jorge Mario Bergoglio/Francis is so full of effusive praise. This travesty can never be made "reverent" and "devout" as its entire theology is based upon a rejection of "outward forms penance," which is why references to a God Who judges and punishes with eternal loss unrepentant sinners have been eliminated.
The conciliar revolutionaries were good enough to provide us with proof of this disdain for "outward signs of penance:"
The same awareness of the present state of the world also influenced the use of texts from very ancient tradition. It seemed that this cherished treasure would not be harmed if some phrases were changed so that the style of language would be more in accord with the language of modern theology and would faithfully reflect the actual state of the Church's discipline. Thus there have been changes of some expressions bearing on the evaluation and use of the good things of the earth and of allusions to a particular form of outward penance belonging to another age in the history of the Church. (Paragraph Fifteen, General Instruction to the Roman Missal, 1997.)
Who says that outward signs of penance belong to "another age in the history of the Church"?
Not the Mother of God:
"Penance! Penance! Penance!. . . .  Kiss the ground as a penance for sinners." (Our Lady's Words at Lourdes.)

"Are you willing to offer yourselves to God and bear all the sufferings He wills to send you, as an act of reparation for the conversion of sinners? (May 13, 1917.)

"Then you are going to have much to suffer, but the grace of God will be your comfort." (May 13, 1917.)

"Pray, pray very much, and make sacrifices for sinners; for many souls go to hell, because there are none to sacrifice themselves and pray for them." (August 19, 1917.) (Our Lady's Words at Fatima.)
We are indeed living in a period of profound chastisement where the devil is using the lack of faith and the bad example of Catholics all across and up and down the vast expanse of the ecclesiastical divide to scandalize and divide Catholics and non-Catholics alike.
We cannot be blind to the truth about the horror of our own sins, each of which wounded Our Blessed Lord and Saviour once in time and wounds the Church Militant on earth today. We must be brutally honest about our sins and the harm that they have done to our souls and to the Mystical Body of Christ, earnestly seeking to live more and more penitentially, especially as the final two weeks of Lent draw near, seeking to offer up all of our prayers and penances and physical sufferings and fastings and humiliations that come our way in a spirit of reparation to God through the Sorrowful and Immaculate Heart of Mary. We are very much responsible for the malodorous state of the Church Militant on earth and the world-at-large.
To Our Lady's Sorrowful and Immaculate Heart belongs the triumph that will vanquish the lords of Modernism once and for all.
Isn't it time to pray a Rosary now?
Immaculate Heart of Mary, triumph soon.
Viva Cristo Rey! Vivat Christus Rex!
Our Lady of the Rosary, pray for us.
Saint Joseph, pray for us.
Saints Peter and Paul, pray for us.
Saint John the Baptist, pray for us.
Saint John the Evangelist, pray for us.
Saint Michael the Archangel, pray for us.
Saint Gabriel the Archangel, pray for us.
Saint Raphael the Archangel, pray for us.
Saints Joachim and Anne, pray for us.
Saints Caspar, Melchior and Balthasar, pray for us.
Saint Isidore of Seville, pray for us.