It was thirty-one days ago today, Tuesday, March 25, 2014, the Feast of the Annunciation of the Blessed Virgin Mary and the Commemoration of Tuesday in the Third Week of Lent, that the following news story was featured in Way, Way Beyond the Brave New World:
The bodies of thousands of aborted and miscarried babies were incinerated as clinical waste, with some even used to heat hospitals, an investigation has found.
Ten NHS trusts have admitted burning foetal remains alongside other rubbish while two others used the bodies in 'waste-to-energy' plants which generate power for heat.
Last night the Department of Health issued an instant ban on the practice which health minister Dr Dan Poulter branded 'totally unacceptable.'
At least 15,500 foetal remains were incinerated by 27 NHS trusts over the last two years alone, Channel 4's Dispatches discovered.
The programme, which will air tonight, found that parents who lose children in early pregnancy were often treated without compassion and were not consulted about what they wanted to happen to the remains.
One of the country's leading hospitals, Addenbrooke's in Cambridge, incinerated 797 babies below 13 weeks gestation at their own 'waste to energy' plant. The mothers were told the remains had been 'cremated.'
Another 'waste to energy' facility at Ipswich Hospital, operated by a private contractor, incinerated 1,101 foetal remains between 2011 and 2013.
They were brought in from another hospital before being burned, generating energy for the hospital site. Ipswich Hospital itself disposes of remains by cremation.
"This practice is totally unacceptable," said Dr Poulter.
"While the vast majority of hospitals are acting in the appropriate way, that must be the case for all hospitals and the Human Tissue Authority has now been asked to ensure that it acts on this issue without delay."
Sir Bruce Keogh, NHS Medical Director, has written to all NHS trusts to tell them the practice must stop.
The Chief Medical Officer, Dame Sally Davies, has also written to the Human Tissue Authority to ask them make sure that guidance is clear.
And the Care Quality Commission said it would investigate the programme's findings.
Prof Sir Mike Richards, Chief Inspector of Hospitals, said: "I am disappointed trusts may not be informing or consulting women and their families.
"This breaches our standard on respecting and involving people who use services and I'm keen for Dispatches to share their evidence with us.
"We scrutinise information of concern and can inspect unannounced, if required."
A total of one in seven pregnancies ends in a miscarriage, while NHS figures show there are around 4,000 stillbirths each year in the UK, or 11 each day.
Ipswich Hospital Trust said it was concerned to discover that foetal remains from another hospital had been incinerated on its site.
A spokeswoman said: "The Ipswich Hospital NHS Trust does not incinerate foetal remains."
She added that the trust "takes great care over foetal remains"
A spokesman for the Cambridge University Hospitals NHS Foundation Trust said that trained health professionals discuss the options with parents 'both verbally and in writing.'
"The parents are given exactly the same choice on the disposal of foetal remains as for a stillborn child and their personal wishes are respected," they added. (Aborted babies incinerated to heat UK hospitals.)
This is what I wrote at the time thirty-one days ago now:
How can God's just chastisement not be far behind?
"Human Tissue Authority"?
This is straight out of George Orwell's 1984 and Aldous Huxley's Brave New World.
Upon what moral "high ground" can any Western nation, including the United States of America, stand to condemn the actions of the likes of Adolf Hitler in the past or any of the alleged "bad guys" of the present who are supposed to inhabit "other countries"
Don't kid yourselves: such things are happening right here in the United States of America, the supposed "land of the free" and the "home of the brave."
Millions of butchered preborn babies have been thrown out with the refuse or simply burned as so much garbage right here in the supposedly "civilized" United States of America.
Yet it is that many killing centers, including hospitals, here in the United States of America and the supposedly "free world" champion themselves as the "lovers of the poor" and the "downtrodden," to whom their authorities  dispense chemicals, pills and devices to kill preborn babies or to prevent them from being conceived. This is "charitable," hospital administrators believe, as it helps to "limit" the number of mouths that "the poor" have to feed and permits them to more time and money with which to "enjoy" themselves. (Way, Way Beyond the Brave New World.)
As it turns out, there is proof that such monstrous things are happening right here in the United States of America, the supposed "shining city set on a hill" and "last, best hope of mankind," descriptions that belong alone to the Catholic Church and to no country:
SALEM, Oregon, April 24, 2014 (LifeSiteNews.com) – The Marion County Board of Commissioners announced late Wednesday that they are putting a stop to a waste-to-energy facility's program that was incinerating aborted babies to produce electricity.
The B.C. Catholic's Steve Weatherbe revealed April 21 that the British Columbia government was sending fetal remains to the Covanta Marion waste-to-energy facility to be burned along with other medical waste. The story made national news after LifeSiteNews reported on the revelation Wednesday afternoon.
"We are outraged and disgusted that this material could be included in medical waste received at the facility," said Commissioner Janet Carlson in a Wednesday statement.
"We did not know this practice was occurring until today. We are taking immediate action and initiating discussions with Covanta Marion to make certain that this type of medical waste is not accepted in the future."
The board says it has called an emergency meeting for Thursday morning at 9:00 a.m. to discuss the issue.
The British Columbia Ministry of Health said in an email to the B.C. Catholic that "biomedical waste" shipped to the U.S. to be incinerated includes "human tissue, such as surgically removed cancerous tissue, amputated limbs, and fetal tissue."
"The ministry understands that some is transferred to Oregon. There it is incinerated in a waste-to-energy plant," the email stated.
The ministry said that contractors handling the province's "biomedical waste" follow "health and safety protocols, as well as federal, provincial, and local regulations."
Kristan Mitchell, executive director of the Oregon Refuse and Recycling Association, told the B.C. Catholic that the "biomedical waste" likely ends up at the Covanta Marion waste-to-energy facility in Oregon since it is the only facility that uses waste to power the grid. The facility confirmed that it still receives and incinerates B.C. medical waste.
The power facility, located in Brookes just off the I-5, burns waste in two massive boilers at a temperature of about 2,000 degrees Fahrenheit. The heat transfers into water tubes, which creates steam to drive turbines. The turbines generate electricity.
This news came one month after the remains of more than 15,000 aborted babies were found to have been incinerated, along with other "medical waste," to heat and generate power for British hospitals. (Oregon county puts stop to incinerating aborted babies for electricity: 'we are outraged'.)
Mind you, this is simply one instance in which this horrific practice was discovered here in this country. There are doubtlessly more such cases.
What is very telling, however, is that Marion County Commissioner Janet Carlson says that she is "outraged" by the incineration of the remains of butchered preborn babies. Why is not Commissioner Janet Carlson outraged by the butchery itself?
Perhaps even more to the point, what is not Commissioner Janet Carlson outraged by the use of the remains of butchered babies in cosmetics and vaccines and other "consumer" products? Perhaps she is not even aware of such uses. Perhaps she does not want to be informed about them.
Here is an article from five years ago dealing with the use of the cells of butchered babies in a particular line of cosmetics:
A San Francisco cosmetics company has ignited an outcry among pro-lifers for including an unexpected ingredient in its anti-aging creams: skin-cell proteins from an aborted fetus.
Children of God for Life, a watchdog group that monitors the use of fetal material in medical products, called last week for a boycott of all treatments manufactured by Neocutis Inc., which acknowledges that the key ingredient in its product line was developed from an aborted boy.
"There's just no excuse for using aborted babies in skin-care products," said Debi Vinnedge, executive director of Children of God for Life, a 10-year-old organization based in Murfreesboro, Tenn. "The reaction, the shock and anger I've seen is incredible."
In a statement released Friday, in response to a wave of condemnation from pro-life and religious blogs, Neocutis defended the use of its trademarked ingredient, Processed Skin Cell Proteins, or PSP, arguing that the fetal cell line was harvested in a responsible, ethical manner for use in treating severe dermatological injuries.
The company compared its situation to that of researchers who used fetal kidney cells to develop the polio vaccine.
"Our view – which is shared by most medical professionals and patients – is that the limited, prudent and responsible use of donated fetal skin tissue can continue to ease suffering, speed healing, save lives and improve the well-being of many patients around the globe," said the statement.
The ingredient was developed at the University of Lausanne in Switzerland from proteins in the skin tissue of a 14-week-old male baby electively aborted at the university's hospital and donated to the Swiss university. The abortion was deemed medically necessary because the baby could not survive to term, according to Neocutis.
The fetal skin cell line was taken from a piece of skin the size of a postage stamp and donated voluntarily by the parents for medical research. The donation was approved by the hospital's medical ethics committee and in accordance with Swiss laws, said the Neocutis statement.
Neocutis also insisted that the one donation would be sufficient for the manufacture of its products. Critics argue that it's impossible to know how long the cell line will last, but Neocutis states on its Web site that "no additional fetal biopsies will ever be required."
"We feel we are in complete compliance with the laws of God and the laws of man," Neocutis President Mark J. Lemko said in an e-mail response to critics, which was posted on the Children of God for Life Web site.
Ms. Vinnedge accused the company of playing up PSP's medical applications in order to draw attention from its cosmetic uses. Although the company developed PSP for the treatment of skin ulcers, burns and scarring, Neocutis soon recognized the ingredient's value in restoring aging skin.
Neocutis cosmetic products using the cell line include Bio-Restorative Skin Cream, Bio-Gel Bio-Restorative Hydrogel, Lumiere Bio-Restorative Eye Cream and Bio-Restorative Serum with PSP Intensive Spot Treatment. In terms of price, they're not exactly comparable to Maybelline: A 1-ounce bottle of Journee Bio-Restorative Day Cream costs $120.
Judie Brown, president of American Life League, said that although use of aborted fetal parts is indefensible for any purpose, Neocutis' use for a product as trivial as an anti-aging cream speaks uniquely to current trends and the desire for eternal youth.
"What's new about this is our cultural attitude toward beautification and our sense of self … and living forever," she said.
Ms. Vinnedge said she would object to the use of the fetal cell lines no matter what their use, medical or cosmetic, arguing that mature cells are just as effective. Indeed, other companies make high-end skin creams using proteins derived from postnatal placentas, which Mrs. Brown called completely morally acceptable to pro-lifers.
Even so, Ms. Vinnedge said, using fetal tissue in anti-wrinkle cream crosses moral and ethical boundaries.
"This is pure vanity," Ms. Vinnedge said. "We're talking a medical treatment versus a vanity treatment."
She compared it to the Nazis' use of the skin of Jews to make lampshades. Her Web site showed a clip from the 1973 science-fiction movie "Soylent Green," in which the "secret ingredient" in a popular wafer is found to be human flesh.
The original skin sample may have been tiny, she said, but so is a 14-week unborn baby. "They say the skin sample was the size of a postage stamp – well, something that size could mean the whole back," Ms. Vinnedge said.
Neither the Neocutis Web site nor its advertising makes any secret of the company's use of fetal cell lines.
The firm's online entries say the products were "inspired by fetal skin's unique properties" and that the technology "uses cultured fetal skin cells to obtain an optimal, naturally balanced mixture of skin nutrients."
"Neocutis means, literally, new skin. And who wouldn't like to turn back time to create flawless baby skin again?" says one ad.
Even the company's critics were surprised by its candor. For years, Ms. Vinnedge said, she has heard rumors that some beauty companies use aborted fetal cell lines in their products, but she's never been able to confirm it because the Food and Drug Administration doesn't require the listing of cosmetic ingredients.
"Usually, when people to write to us about cosmetics, we tell them it's impossible to find out," Ms. Vinnedge said. "That's why I can't believe [Neocutis] posted it."
Mrs. Brown said the company's statement struck her as morally and philosophically unmoored.
"We think the company has taken the position they have because they're trying to align themselves with the Catholic identity of some of their founders," she said. Neocutis officials "don't seem to think there's any complicity on their part" for using the products of the abortion.
"I think that many companies just say, 'Is there a good to be achieved,' and don't care how," she said.
Mrs. Brown said this development isn't especially surprising to her, recalling that her group published a book in 1981 called "101 Uses for a Dead Baby," in which author Olga Fairfax wrote that fetal tissue could be used for skin care products and even to grow new limbs.
"Now, we're more advanced than [Ms. Fairfax] could have imagined," Mrs. Brown said.
Ms. Vinnedge's organization has pushed Congress for years for more detailed labeling legislation in medicine, but she says she'll now expand her proposal to include cosmetics.
"PETA made sure we know that companies aren't testing cosmetics on animals," she said of the animal rights group People for the Ethical Treatment of Animals. "We want to make sure they're not using fetal material." (Aborted fetus cells used in beauty creams.)
It is also well known that the cells from butchered babies are used in vaccines:
August 22, 2013 (MercatorNet) – After decades of ignoring the issue, Nature, the world's leading science journal, has finally acknowledged that creating life-saving vaccines from tissue from aborted foetuses is a deeply controversial ethical issue.
In 1964, an American researcher obtained cells from a Swedish foetus aborted because her mother already had enough children. He coaxed them into multiplying into a cell line which he called WI-38. Since they were normal and healthy, they were ideal for creating vaccines. Two years later, scientists in the UK obtained cells from a 14-week male fetus aborted for "psychiatric reasons" from a 27-year-old British woman. This cell line is called MRC-5.
It is undeniable that the vaccines made from WI-38 and MRC-5 cells have saved millions of lives. Scientists have made vaccines against rubella, rabies, adenovirus, polio, measles, chickenpox and shingles, as well as smallpox, chicken pox and hepatitis A.
But protests by opponents of abortion have been largely ignored by the scientific community. If you Google "vaccines" and "abortion", only Catholic groups, right-to-life organisations and sites warning about the dangers of vaccinations mention the topic. The US Centers for Disease Control and Prevention barely alludes to it even though it has abundant information on vaccines. A website called Vaccine Ethics at the University of Pennsylvania Center for Bioethics fails to mention it.
The reason is clear: vaccines save lives and the abortions happened a long time ago. Get over it. Who cares? "At the time [the fetus] was obtained there was no issue in using discarded material. Retrospective ethics is easy but presumptuous," says Stanley Plotkin, the American scientist who developed the rubella vaccine. "I am fond of saying that rubella vaccine has prevented thousands more abortions than have ever been prevented by Catholic religionists."
But now even Nature – which supports abortion rights and reproductive technology – has expressed its misgivings. "More than 50 years after the WI-38 cell line was derived from a fetus, science and society [have] still to get to grips with the ethical issues of using human tissue in research," its editorial declared in June.
What has changed?
If you could single out a reason, it would be the intensely moving 2010 best-seller, The Immortal Life of Henrietta Lacks, by Rebecca Skloot. This book has nothing to do with abortion, but it highlights the deep respect, almost sacredness, that the body of a human person must command, even something as insignificant as discarded tissue.
Henrietta Lacks was an African-American woman who was 31 when she died of cervical cancer in 1951. Cells from her tumour became the first human cells cultured continuously for use in research. HeLa cells have helped to make possible some of the most important medical advances of the past 60 years, including modern vaccines, cancer treatments, and IVF techniques. They are the most widely used human cell lines in existence. More than 300 scientific papers are published every month using HeLa cells.
There is no question about their usefulness – but were they obtained ethically? Is it ethical to continue using them?
The Immortal Life of Henrietta Lacks raises disturbing questions which transcend "usefulness". Henrietta Lacks was poor and black. Her children, it seems, are even poorer. A doctor at Johns Hopkins removed her cells without asking her. He cultivated the cells without informing her. He distributed the cells without asking permission of her family. Companies became rich by using her cells without paying royalties. Her family only learned that their mother's cells had been scattered around the world in 1973. Their complaints were ignored for many years – after all, they were only poor, uneducated black folks.
No one cared about the woman called Henrietta Lacks who was overdosed with radium, who died leaving five children behind, one of them an epileptic housed in a filthy, chaotic institution called The Hospital for the Negro Insane. Some people even thought that HeLa cells originated with a woman named Helen Lane. Her daughter wrote in a diary, "When that day came, and my mother died, she was Robbed of her cells and John Hopkins Hospital learned of those cells and kept it to themselfs, and gave them to who they wanted and even changed the name to HeLa cell and kept it from us for 20+ years. They say Donated. No No No Robbed Self."
It was only earlier this year that the US National Institutes of Health (NIH) negotiated an agreement with the family. All researchers who use or generate full genomic data from HeLa cells must now include in their publications an acknowledgement and expression of gratitude to the Lacks family.
Incredibly, despite all the publicity, scientists continued to ignore the concerns of the Lacks family. Just a few months ago, German researchers published the first sequence of the full HeLa genome. This compromised not only Henrietta Lacks's genetic privacy but also her family's. (The researchers have removed the sequence from public view.)
The story of HeLa cells, in short, is twofold: a story of towering scientific achievement and a story of exploitation by ambitious and callous scientists.
Less famous, but even more important, says Nature, have been WI-38 cells. HeLa cells multiply prolifically, but they are cancerous. WI-38 cells are healthy and normal and have been used to develop vaccines against rubella, rabies, adenovirus, polio, measles, chickenpox and shingles. Their origin is even more controversial than the dark story of Henrietta Lacks. (Aborted fetus cells used in beauty creams.)
The fact remains that a country whose laws permit the daily slaughter of the innocent preborn by chemical, mechanical and surgical means will be unable to hold back the flood tides of further moral degradation and decay.
How many times does it need to be pointed out that Catholicism is the one and only foundation of personal and social order?
How many times is it necessary to repeat the following truth, stated so clearly by Pope Saint Pius X in Notre Charge Apostlique, August 15, 1910?
Here we have, founded by Catholics, an inter-denominational association that is to work for the reform of civilization, an undertaking which is above all religious in character; for there is no true civilization without a moral civilization, and no true moral civilization without the true religion: it is a proven truth, a historical fact. The new Sillonists cannot pretend that they are merely working on "the ground of practical realities" where differences of belief do not matter. Their leader is so conscious of the influence which the convictions of the mind have upon the result of the action, that he invites them, whatever religion they may belong to, "to provide on the ground of practical realities, the proof of the excellence of their personal convictions." And with good reason: indeed, all practical results reflect the nature of one's religious convictions, just as the limbs of a man down to his finger-tips, owe their very shape to the principle of life that dwells in his body. (Pope Saint Pius X, Notre Charge Apostolique, August 15, 1910.)
How anyone can expect that the current eruption of the volcanic ash generated by  Mount Statism, which is the logical, inexorable result of the Protestant Revolution against the Social Reign of Christ the King as It must be exercised by the Catholic Church, will be stopped by purely natural means continues to astound me. It is simply not possible for there to be a "restoration" of supposed "constitutional sanity" and "limited government" when even the "pope" himself believes that it is not necessary to speak about moral issues and goes out of his way to praise and publicly embrace statists who support each of the evils that cry out to Heaven for vengeance because they are said to be for "the poor."
Alas, Jorge has provided cover for the pro-aborts and pro-perverts in the organized crime family of the naturalist "left" while at the same time given those in the false opposite of the organize crime family of the naturalist "right" an opportunity to get rid of the "divisive" "moral issues" once and for all. This is precisely what the Republican Party of the State of Nevada has done, and others are sure to follow suit in short order:
Las Vegas, Nev., Apr 18, 2014 / 02:03 am (CNA/EWTN News).- Several hundred delegates of the Nevada Republican Party approved a party platform Saturday that lacks a pro-life plank and drops support for the definition of marriage as a union of one man and one woman.
Nevada State Party Chairman Michael McDonald told the Las Vegas Review-Journal he thought the party platform was "about inclusion, not exclusion."
"This is where the party is going."
Fewer than half of the original 520 party delegates were present to vote to approve the platform the evening of April 12 at the party's annual convention, held at South Point Casino-Hotel in Las Vegas.
The platform vote took place long after the convention's scheduled 9 a.m. start time, and the modified platform had been proposed by a committee, according to the Review-Journal.
The members of the platform committee said they had decided not to deal with the removed issues in 2014 because the U.S. Supreme Court and other courts had made decisions on them.
Platform committee member Dave Hockaday told the Review-Journal that the platform was a question of how the party can "back out of people's personal lives."
"We need to focus on issues where we can have an impact."
CNA contacted Nevada Right to Life to comment on the platform change, but the organization could not be reached for comment. (Nevada Republicans Drop Pro-Life Marriage Stand.)
The belief that one can realize material prosperity at home and "peace" internationally while God is offended daily under cover of the civil law is delusional. Although I have been saying and writing this for many years now, we cannot even begin to imagine the price that the so-called "civilized" nations of the Western world will have to pay for these daily offenses.
Readers of this website should, at least by now, understand that it is impossible to realize the common temporal good, which must be pursued in light of man's Last End–the possession of the Beatific Vision of God the Father, God the Son and God the Holy Ghost for all eternity in Heaven, while promoting and engaging in actions that break God's laws and thereby wound the souls of men, introducing disorder and chaos into their lives and that of their nations:
The more closely the temporal power of a nation aligns itself with the spiritual, and the more it fosters and promotes the latter, by so much the more it contributes to the conservation of the commonwealth. For it is the aim of the ecclesiastical authority by the use of spiritual means, to form good Christians in accordance with its own particular end and object; and in doing this it helps at the same time to form good citizens, and prepares them to meet their obligations as members of a civil society. This follows of necessity because in the City of God, the Holy Roman Catholic Church, a good citizen and an upright man are absolutely one and the same thing. How grave therefore is the error of those who separate things so closely united, and who think that they can produce good citizens by ways and methods other than those which make for the formation of good Christians. For, let human prudence say what it likes and reason as it pleases, it is impossible to produce true temporal peace and tranquillity by things repugnant or opposed to the peace and happiness of eternity. (Silvio Cardinal Antoniano, quoted by Pope Pius XI in Divini Illius Magistri, December 31, 1929.)
Moreover, the man whom most people believe to be the "pope" believes that those who weep over their own sins and the sins that abound so freely in this lawless world of ours are akin to "bats," blind creatures who do not know the joy of the Resurrection of Our Blessed Lord and Saviour Jesus Christ, something he made clear yet again yesterday morning during his daily lesson at the Ding Dong School of Apostasy:
Taking his cue from the gospel reading of the risen Christ appearing before his disciples, Pope Francis began by noting how instead of rejoicing over his resurrection, the disciples were struck by fear instead of joy.
"This is a Christian's disease. We're afraid of joy. It's better to think: Yes, yes, God exists, but He is there. Jesus has risen and He is there. Somewhat distant. We're afraid of being close to Jesus because this gives us joy. And this is why there are so many 'funeral' (mournful) Christians, isn't it? Those whose lives seem to be a perpetual funeral. They prefer sadness to joy. They move about better in the shadows, not in the light of joy, like those animals who only come out at night, not in the light of day, who can't see anything. Like bats. And with a little sense of humour we can say that there are Christian bats who prefer the shadows to the light of the presence of the Lord." (There are "bat-like Christians" who prefer the shadows to the light of the Lord).
The one who is really blind as a bat is Jorge Mario Bergoglio, who does not believe that men can weep over their own sins and those of the whole world as they carry the Cross of the Divine Redeemer with joy, knowing that there is no other path to the joy of an unendng Easter Sunday in Paradise than trodden on by Our Lord Himself, the Via Dolorosa.
Jorge Mario Bergoglio is as blind as a bat as he refuses to see and thus accept the simple fact the false doctrines, sacrilegious worship and "innovative" pastoral practices of his false church have let loose a floodtide of evil in the world that had been dammed up for centuries solely by the sanctifying and teaching offices of the Catholic Church. The world is now flooded with evil precisely because the lords of conciliarism, intent on "beatifying" and "canonizing" their remote and proximate predecessors, have sought to tear down the "bastions," thus inundating souls with a torrent of pestilential evils that are without parallel in their depth, width and breadth.
God will not be mocked. He continues to send clear signs of His displeasure by means of natural disasters of various sorts, and it is indeed very possible that He is showing his displeasure with the lords of conciliarism and their numerous falsehoods by permitting various events to occur in close proximity to developments in the conciliar church.
To wit, the tragic death of a well-meaning soul, Marco Gusmini, while he was standing in front of hideous "bent" crucifix that was erected to honor the visit of the soon-to-be "Pope Saint John Paul the Great" to Brescia, Italy, in 1998 and move thereafter to Cevo, Italy, could be very well be yet another sign that God will no longer be mocked by even the hideous images erected by the conciliarists (remember that asteroid that struck the dome of the Basilica of Saint Peter on the evening of February 11, 2013, a few hours after Joseph Ratzinger/Benedict announced his resignation as the head of the conciliar church):
A 21-year old man has died after being crushed by a crucifix erected in honour of Pope John Paul II in northern Italy.
Marco Gusmini was killed instantly and one other man taken to hospital, Italian media reported.
Part of the 30m-high (100ft) sculpture collapsed at a ceremony ahead of the Pope's canonisation. John Paul II and his predecessor, Pope John XXIII, are due to be declared saints on Sunday.
The crucifix commemorates the Pope's visit to the area in 1998.
The installation, near the town of Cevo, was designed as a large curved cross with a statue of Jesus Christ, weighing 600kg (1,320lb), fixed to the top.
A group of children were reported to be in attendance at the time.
The cross was designed by sculptor Enrico Job and was created for John Paul II's visit to nearby Brescia.
The two popes will be declared saints at the Vatican on Sunday.
It is not the first death caused by a falling crucifix in Italy.
In 2004, the Associated Press reported that a 72-year old woman had been crushed to death by a 7ft-tall metal crucifix in the town of Sant'Onofrio in the south of the country. (Crucifix Erected in Honor of Wojtyla/John Paul II collapses and kills a twenty-one year-old man.)
Omitted from the report above was the fact that the late Mr. Gusmini lived on "Pope John XIII" Street in Lovere, Italy:
The massive cross was unusually shaped – it bowed and bent downwards and was held in place by steel cables.
In what one Italian newspaper called "a tragedy full of disturbing coincidences", the victim lived with his parents in a town called Lovere in Via Papa Giovanni XXIII – Pope John XXIII Street. (Man Crushed to Death by Giant Crucifix Dedicated to Wojtyla/John Paul II.)
It is perhaps the case that this is no more of a "coincidence" than the earthquake that shook the Basilica of Saint Francis of Assisi in Assisi, Italy, on September 26, 1997, just thirty-one days shy of the eleventh anniversary of Karol Wojtyla/John Paul II having presided over a veritable assortment of the friends of Ba'al, who offered "worship" to their false gods, as totally unrelated to the sacrileges that had taken place there. The following photograph says volumes about the loss of all sense of the honor and glory and majesty of the Most Blessed Trinity exhibited the soon-to-be "Saint John Paul II."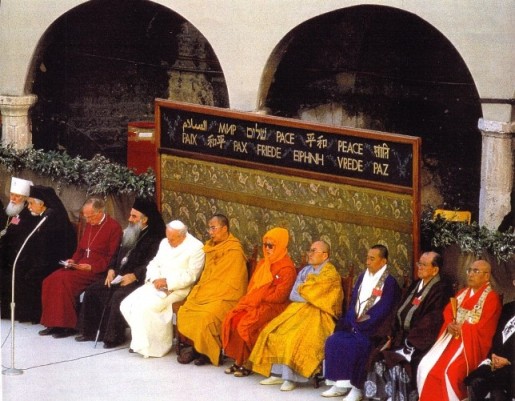 Remember also that flooding devastated the Shrine of Our Lady of Lourdes twice in the past year.
The first wave of flooding hit Lourdes on October 21, 2012, just eight days after it had been reported shortly after it had been reported that Giovanni Montini/Paul The Sick's cause for "beatification" was approved by the conciliar Congregation for the Causes of the Saints (see Paul VI to be beatified soon and France assesses damage of Lourdes flooding):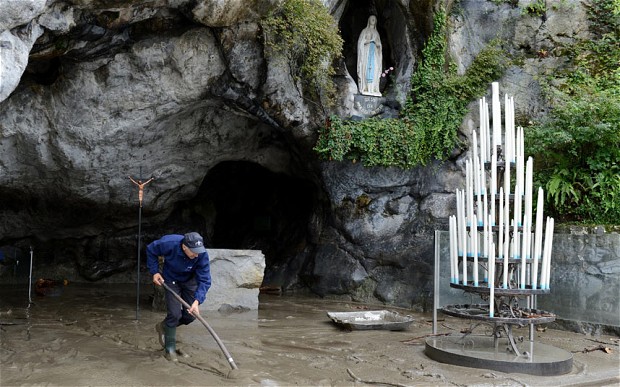 Flooding at the Grotto of Massabielle, Round 1
A second wave of flooding devastated the Grotto of Massabielle on the very day, Tuesday, June 18, 2013, that the ANSA news service in Italy reported that Karol Wojtyla/John Paul II's alleged second "miracle" had been approved by the conciliar congregation for the causes of making phony saints and was simply awaiting "papal" approval for their joint "canonization" (see Two For The Price Of One, part one and Two For The Price Of One, part two and Vatican-sources-say-second-miracle-approved-for-John-Paul-II):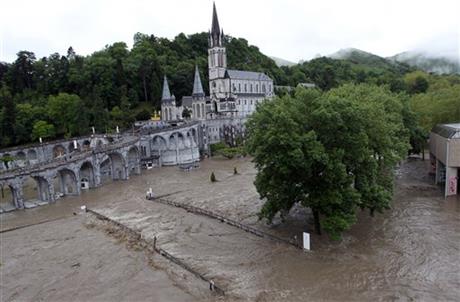 June 19, 2013, the day after the rains hit Lourdes, France
Coincidental?
I do not think so.
Jorge Mario Bergoglio is simply as blind as that proverbial bat to see the hand of God a work in these catastrophic events that reflect the catastrophe that is conciliarism itself and all of the evil let loose as a result of Angelo Roncalli/John XIII's "opening to the world" and Karol Wojtyla/John Paul II's incessant calls for the "civilization of love."
Keep praying your Rosaries in reparation for the many sins against the honor and glory and majesty of the Most Blessed Trinity and the devastation of souls that are being televised live for the whole world to see.
Vivat Christus Rex! Viva Cristo Rey!
Our Lady of the Rosary, pray for us.
Saint Joseph, pray for us.
Saints Peter and Paul, pray for us.
Saint John the Baptist, pray for us.
Saint John the Evangelist, pray for us.
Saint Michael the Archangel, pray for us.
Saint Gabriel the Archangel, pray for us.
Saint Raphael the Archangel, pray for us.
Saints Joachim and Anne, pray for us
Saints Caspar, Melchior, and Balthasar, pray for us.