Although there is really no need to write this commentary, I am conscious of the fact that articles written years ago dealing with subjects that come to the forefront now and again have long since faded away in the memory of those who have been reading this site for some time now. While I would love nothing more than to ignore the absurdity that passes for normalcy in the counterfeit church of conciliarism, which is not the Catholic Church, she who is the spotless, virginal Mystical Bride of her Divine Founder, Invisible Head and Mystical Bridegroom, Our Blessed Lord and Saviour Jesus Christ, a few moments in the final forty-five minutes or so of the Feast of Corpus Christi will be taken to demonstrate yet again the apostate nature of the false religion that is conciliarism.
Jorge Mario Bergoglio, who is having the grandest time of his seventy-seven years, six months of life masquerading as the world's beloved "Pope" Francis, received another house call from Dr. Justin Welby, the layman who is enjoying himself rather heartily in his masquerade as the heretical and schismatic Anglican sect's "Archbishop of Canterbury," on Monday, June 16, 2014. Interview Number Eight got in the way of treating of this tete-a-tete between two important personages of the One World Ecumenical Church (see What Constitutes "Rest" for A Figure of Antichrist?, part one and What Constitutes "Rest" for a Figure of Antichrist, part two).
Here is part of what Jorge said four days ago now:
"Behold, how good and how pleasant it is for brothers to dwell together in unity!" (Ps 133:1). Once again we meet, Your Grace, as co-workers in the Lord's vineyard and fellow pilgrims on the path to his Kingdom. I welcome you and the distinguished members of your delegation, and I pray that today's meeting will serve to strengthen further our bonds of friendship and our commitment to the great cause of reconciliation and communion between Christian believers.
The Lord's question – "What were you arguing about on the way?" (Mk 9:33) – might also apply to us. When Jesus put this question to his disciples they were silent; they were ashamed, for they had been arguing about who was the greatest among them. We too feel ashamed when we ponder the distance between the Lord's call and our meagre response. Beneath his merciful gaze, we cannot claim that our division is anything less than a scandal and an obstacle to our proclaiming the Gospel of salvation to the world. Our vision is often blurred by the cumulative burden of our divisions and our will is not always free of that human ambition which can accompany even our desire to preach the Gospel as the Lord commanded (cf. Mt 28:19). (Jorge Says A Few Words to A Fellow Non-Catholic Layman.)
Jorge Mario Bergoglio really believes that the so-called Anglican Church has a mission from the true God of Divine Revelation, the Most Blessed Trinity, to teach, govern and sanctify in the Holy Name of Our Blessed Lord and Saviour Jesus Christ, thus making layman Justin Welby his "co-worker in the Lord's vineyard."
They are co-workers, to be sure, co-workers in heresy, blasphemy, sacrilege and apostasy, Their "lord" is from the netherworld even though they do not realize that this is the case.
The Anglican sect itself is a scandal as it is false church born as a result of the amoral lust of King Henry VIII, who had Parliament declare himself to be the Supreme Head of the Church in England. The false "Anglican church" was built by true bishops who betrayed Christ the King for King Henry Tudor's thirty pieces of silver as Catholic churches and monasteries were stolen in the greatest land grab in human history and as over 72,000 Catholics who remained faithful to the true Church, fully three percent of the population of England at the time, were executed between 1534 and 1547. There's your scandal, Jorge.
Jorge, you are a scandal. Your false church is a scandal. Your words and actions are scandalous, including permitting yourself to be "blessed" a man who, at least to the teaching that is still held nominally by your false sect, has no valid priestly orders or episcopal consecration: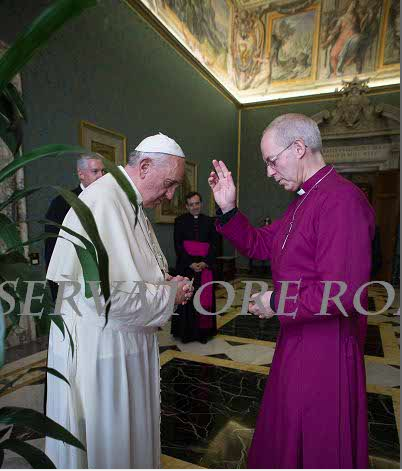 So much for these words of Pope Leo XIII's Apostolicae Curae, September 18, 1896:
Wherefore, strictly adhering, in this matter, to the decrees of the pontiffs, our predecessors, and confirming them most fully, and, as it were, renewing them by our authority, of our own initiative and certain knowledge, we pronounce and declare that ordinations carried out according to the Anglican rite have been, and are, absolutely null and utterly void. . . .
We decree that these letters and all things contained therein shall not be liable at any time to be impugned or objected to by reason of fault or any other defect whatsoever of subreption or obreption of our intention, but are and shall be always valid and in force and shall be inviolably observed both juridically and otherwise, by all of whatsoever degree and preeminence, declaring null and void anything which, in these matters, may happen to be contrariwise attempted, whether wittingly or unwittingly, by any person whatsoever, by whatsoever authority or pretext, all things to the contrary notwithstanding. (Pope Leo XIII, Apostolicae Curae, September 18, 1896.)
Even though the lords of conciliarism used to pay lip service attention to Apostolicae Curae, even Giovanni Eugenio Antonio Maria Montini/Paul the Sick gave every public indication that it no longer mattered when he presented Anglican layman Michael Ramsey, then the "archbishop" of Canterbury, with the episcopal ring that he had worn as the Archbishop of Milan when the two meet in the Apostolic Palace on March 23, 2010. It is this ring that each Anglican layman posing as the "archbishop" of Canterbury has worn when visiting successive false "pontiffs" masquerading as true and legitimate Successors of Saint Peter. Welby wore that ring four days ago.
Moreover, "Saint Paul II" and Joseph Ratzinger/Benedict XVI both attempted to give "joint blessings" with "archbishops" of Canterbury. Here is a reminder of Ratzinger's having done so on September 17, 2010: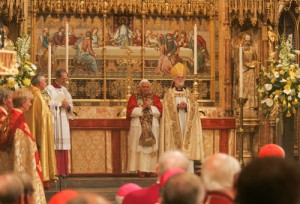 Walter "Cardinal" Kasper used an address in England on May 24, 2003, to consign consigned
Apostolicae Curae to one of those papal condemnations that was simply conditioned by the historical circumstances in which it was written and thus not binding for all generations. So much for the infallibility of the Roman Pontiff:
As I see the problem and its possible solution, it is not a question of apostolic succession in the sense of an historical chain of laying on of hands running back through the centuries to one of the apostles; this would be a very mechanical and individualistic vision, which by the way historically could hardly be proved and ascertained. The Catholic view is different from such an individualistic and mechanical approach. Its starting point is the collegium of the apostles as a whole; together they received the promise that Jesus Christ will be with them till the end of the world (Matt 28, 20). So after the death of the historical apostles they had to co-opt others who took over some of their apostolic functions. In this sense the whole of the episcopate stands in succession to the whole of the collegium of the apostles.
To stand in the apostolic succession is not a matter of an individual historical chain but of collegial membership in a collegium, which as a whole goes back to the apostles by sharing the same apostolic faith and the same apostolic mission. The laying on of hands is under this aspect a sign of co-optation in a collegium.
This has far reaching consequences for the acknowledgement of the validity of the episcopal ordination of another Church. Such acknowledgement is not a question of an uninterrupted chain but of the uninterrupted sharing of faith and mission, and as such is a question of communion in the same faith and in the same mission.
It is beyond the scope of our present context to discuss what this means for a re-evaluation of Apostolicae Curae (1896) of Pope Leo XIII, who declared Anglican orders null and void, a decision which still stands between our Churches. Without doubt this decision, as Cardinal Willebrands had already affirmed, must be understood in our new ecumenical context in which our communion in faith and mission has considerably grown. A final solution can only be found in the larger context of full communion in faith, sacramental life, and shared apostolic mission.
Before venturing further on this decisive point for the ecumenical vision, that is a renewed communio ecclesiology, I should speak first on another stumbling block or, better, the stumbling block of ecumenism: the primacy of the bishop of Rome, or as we say today, the Petrine ministry. This question was the sticking point of the separation between Canterbury and Rome in the 16th century and it is still the object of emotional controversies.
Significant progress has been achieved on this delicate issue in our Anglican/Roman Catholic dialogues, especially in the last ARCIC document The Gift of Authority (1998). The problem, however, is that what pleased Catholics in this document did not always please all Anglicans, and points which were important for Anglican self-understanding were not always repaid by Catholic affection. So we still have a reception problem and a challenge for further theological work.
It was Pope John Paul II who opened the door to future discussion on this subject. In his encyclical Ut Unum Sint (1995) he extended an invitation to a fraternal dialogue on how to exercise the Petrine ministry in a way that is more acceptable to non-Catholic Christians. It was a source of pleasure for us that among others the Anglican community officially responded to this invitation. The Pontifical Council for Christian Unity gathered the many responses, analyzed the data, and sent its conclusions to the churches that had responded. We hope in this way to have initiated a second phase of a dialogue that will be decisive for the future of the ecumenical approach.
Nobody could reasonably expect that we could from the outset reach a phase of consensus; but what we have reached is not negligible. It has become evident that a new atmosphere and a new climate exist. In our globalized world situation the biblical testimonies on Peter and the Petrine tradition of Rome are read with new eyes because in this new context the question of a ministry of universal unity, a common reference point and a common voice of the universal church, becomes urgent. Old polemical formulas stand at odds with this urgency; fraternal relations have become the norm. Extensive research has been undertaken that has highlighted the different traditions between East and West already in the first millennium, and has traced the development in understanding and in practice of the Petrine ministry throughout the centuries. As well, the historical conditionality of the dogma of the First Vatican Council (1869-70), which must be distinguished from its remaining obligatory content, has become clear. This historical development did not come to an end with the two Vatican Councils, but goes on, and so also in the future the Petrine ministry has to be exercised in line with the changing needs of the Church.
These insights have led to a re-interpretation of the dogma of the Roman primacy. This does not at all mean that there are still not enormous problems in terms of what such a ministry of unity should look like, how it should be administered, whether and to what degree it should have jurisdiction and whether under certain circumstances it could make infallible statements in order to guarantee the unity of the Church and at the same time the legitimate plurality of local churches. But there is at least a wide consensus about the common central problem, which all churches have to solve: how the three dimensions, highlighted already by the Lima documents on Baptism, Eucharist and Ministry (1982), namely unity through primacy, collegiality through synodality, and communality of all the faithful and their spiritual gifts, can be brought into a convincing synthesis. (A Vision of Christian Unity for the Next Generation.)
This is simply apostasy of the highest order. Apostolic succession is not "an historical chain of laying on of hands running back through the centuries to one of the apostles"?
The perpetually binding nature of Apostolicae Cenae needs to be re-evaluated?
No member of the Catholic Church is free to assert such things and remain a Catholic in good standing (see Number 9, Satis Cognitum, June 29, 1896.)
The dogmatic decrees of the [First] Vatican Council are historically conditioned?
Oh, please do not even attempt to say that Kasper was not reflecting the exact view of His Apostateness Emeritus, Joseph Ratzinger/Benedict XVI, concerning the "time-conditioned" nature of past dogmatic decrees and/or papal encyclical letters. As noted earlier in this commentary, Ratzinger/Benedict told us in his very words that he believes this precise thing, a proposition that has been condemned by that Vatican Council and to which he, Ratzinger, had to swear against in The Oath Against Modernism.
Ah, but this is why, you see, Walter Kasper, whose theology is very much admired by Jorge Mario Bergoglio, does not believe that there is any need to seek with urgency the unconditional conversion of Anglicans to the Catholic Church, who he clearly believes have true bishops and true priests. It is simply up to the Lambeth Committee to chart its own "direction," to determine, in Kasper's words, whether Anglicans belongs more "to the churches of the first millennium -Catholic and Orthodox," which leads to the second major error in Kasper's recent remarks: that the patriarchies of the East constituted a separate "church" prior to the Greek Schism of 1054. No such "church" existed.
Lost in all of this willingness to subject immutable truths to the "historical-critical" method of Hegelian analysis is the fact that one is either a Catholic who assents to all of the truths contained in the Deposit of Faith, or he he is not. How absurd is it to ask Protestants to determine whether they belong to the Protestantism in which their sects had their origins? The Anglican "church" has no right from God to exist. It is a false religion. Its adherents are in need to be converted unconditionally to the Catholic Church. Those who have been received recently into the ranks of the counterfeit church of conciliarism from the Anglican sect were not required to make any kind of abjuration of error. All they had to do was to attest to their agreement with the conciliar church's so-called Catechism of the Catholic Church, a document that has many problems (see The New Catechism: Is it Catholic? and my own Piracy, Conciliar Style).
Moreover, although the now retired and supposedly "traditional" Ratzinger/Benedict may not have used the word "brother bishop" when in the presence of layman Rowan Williams, he did treat him as a "brother bishop," permitting Walker Kasper to inviting him to preach during an "international Mass" at the Shrine of Our Lady of Lourdes in Lourdes, France, on September 24, 2008, the Feast of Our Lady of Ransom, as he wore his miter along with his "brother bishops" of the counterfeit church of conciliarism (see the website of Dr Rowan Williams for a link to the sermon, replete with a very telling photograph).
What Jorge Mario Bergoglio did four days ago is just another proof that absurdity and bold apostate actions are a natural, normal part of everyday life in the counterfeit church of conciliarism.
This is enough for now.
There is only so much absurdity that I can take these days.
Remember these words of Pope Pius XI, contained in Quas Primas, December 11, 1925:
Not least among the blessings which have resulted from the public and legitimate honor paid to the Blessed Virgin and the saints is the perfect and perpetual immunity of the Church from error and heresy. We may well admire in this the admirable wisdom of the Providence of God, who, ever bringing good out of evil, has from time to time suffered the faith and piety of men to grow weak, and allowed Catholic truth to be attacked by false doctrines, but always with the result that truth has afterwards shone out with greater splendor, and that men's faith, aroused from its lethargy, has shown itself more vigorous than before. ( Pope Pius XI, Quas Primas, December 11, 1925.)
Entrust the difficulties of the moment to Our Lord through Our Lady's Sorrowful and Immaculate Heart, praying Rosaries to console the good God during this time of apostasy and betrayal.
Viva Christus Rex! Viva Cristo Rey!
Our Lady of the Rosary, pray for us.
Saint Joseph, pray for us.
Saints Peter and Paul, pray for us.
Saint John the Baptist, pray for us.
Saint John the Evangelist, pray for us.
Saint Michael the Archangel, pray for us.
Saint Gabriel the Archangel, pray for us.
Saint Raphael the Archangel, pray for us.
Saints Joachim and Anne, pray for us.
Saints Caspar, Melchior and Balthasar, pray for us.
Pope Saint Silverius, pray for us